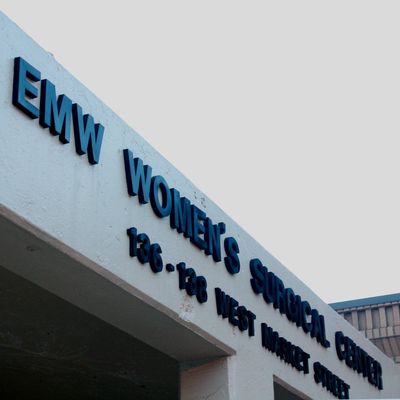 Exterior of EMW clinic.
Photo: EMW Women's Clinic/Facebook
As of January 27, the state of Kentucky will have only one remaining legal abortion provider. The EMW Women's Clinic in Lexington is closing, news that was first reported in a Friday post on the Kentucky National Organization for Women Facebook page.
The clinic's executive director wrote:
"It is with extreme sadness and deep regret that I write to tell you (before you read it in the paper), that EMW WOMEN'S CLINIC, Lexington will close January 27th. As you know, for the past 6 1/2 months we have diligently pursued obtaining a license to operate an abortion facility. Although we and our attorney believed we had fulfilled all the requirements to obtain the license, the Inspector General of KY disagreed and denied us the license. Unfortunately, our landlord has also declined to renew our lease on the space we have occupied at 161 Burt Rd., since 1989."
Indeed, the clinic has been in a legal battle with the state, one that was first kicked off by an anonymous complaint, the Lexington Herald-Leader reported. Scott White, EMW's attorney, believes that the tip came from a government employee and that the state is "almost creating things to make the clinic noncompliant."
Kentucky's abortion laws are strict — just last week, the ACLU sued the state over two recently passed abortion bills, including a 20-week ban. By the end of the month, the EMW in Louisville will be the last abortion provider in the state.
The EMW executive director ended their post by writing, "There is, indeed, a chill wind blowing for women of Kentucky."