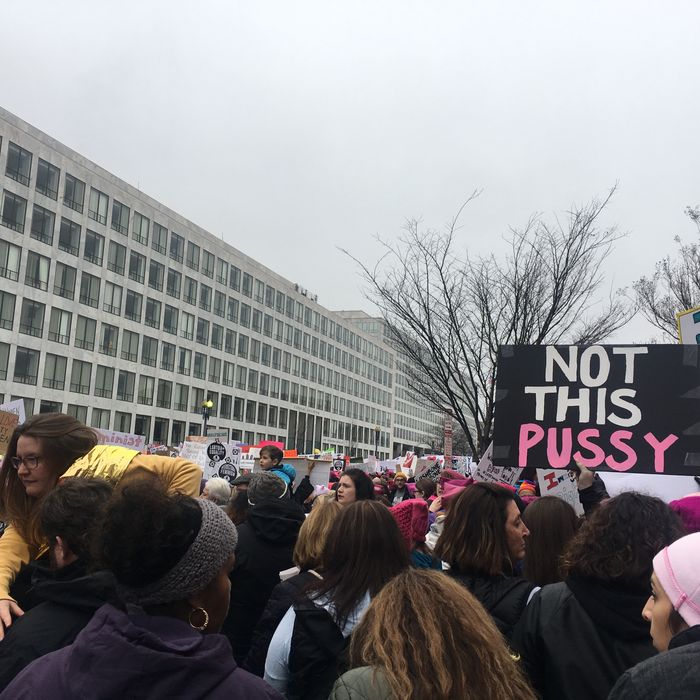 The Women's March on Washington.
Photo: Lisa Ryan
Even though there were sister marches hosted in hundreds of cities across the world, more than 500,000 people attended the Women's March on Washington on Saturday — many of whom traveled great distances to be there. Travelers from Mexico, Canada, California, and Flint, Michigan, shared their travel stories with the Cut, and revealed why they felt it was so important to be in D.C. for the historic event.
Sherri and Sandy, Toronto, Ontario, Canada
Sherri: We came on a bus with the Steel Workers union. They're completely dedicated to women's rights and human rights. They've been long, long supporters of reproductive rights and human rights, and of course, they're anti-racist, anti-homophobic. They're progressive, and this is what they stand for, and they knew people who were part of this movement, so they have kindly let us tag along on their bus.
[My friend Sandy, who also attended the march, and I] work in women's reproductive health. We wanted to march beside these women — we wanted to show our support, absolutely, and our solidarity. I think it is really important to stand beside them. It is true, of course, we could have gone to city hall and marched up to Queen's Park today in Toronto, but for some reason, we just felt it was very important that we showed our solidarity in this way.
Sandy: Also because I think that more than ever, we realized what a dangerous turn the United States has taken, in many directions, but certainly where women's rights are concerned given the vice-president and his very strong anti-choice views and legislation he put into place in the state that he's in. It's hard to turn a blind eye and pretend that there is still now an open border — and God only knows what that's going to look like — within the next four years, how it will affect us. It's not specifically that we took an international position on this, which of course we do, but they are our neighbors, our friends, and our sisters, and we felt we needed to be here.
Elizabeth and Cynthia, Flint, Michigan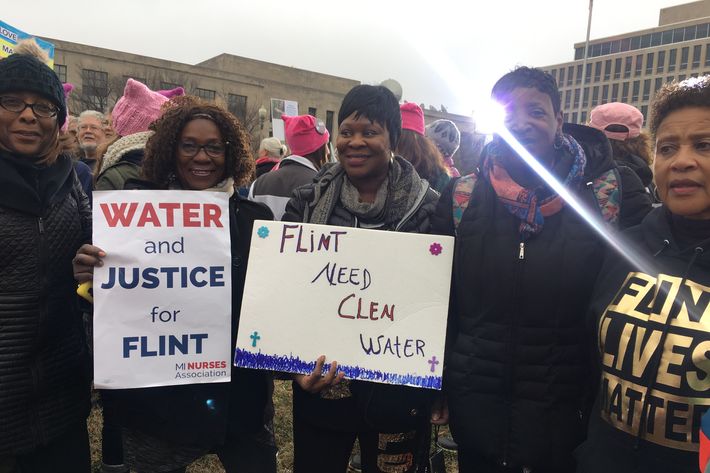 Elizabeth: We came to protest but we also came because we have a water crisis in Flint and we fight for clean water. It's been going on for too long, and we're tired of it and we need clean water. We caught a bus here — it was about ten hours. We hope people see this and realize we still are having a water crisis, and many people could speak out and we could get clean water.
Cynthia: We got to town this morning about 6:30, but the fight is worth it. It's slow; it's a slow process with Governor Snyder. He's holding back like he has before, and it took two years to even bring the awareness. So once he started releasing the money, it got cold, and the ground froze. They only had so many homes when Mayor Weaver was trying to get so many done before the winter, but you know, the process of paperwork and the people's needs were met slowly. They're coming, but they should be a little bit more speedy, because it's not like they don't have the money. They've got big rainy-day funds.
Alice, Boston, Massachusetts
Our chairman, the day after the Trump election said, "I'm going to rent a bus." So she rented a bus that day; she got everybody in the department — all the women, some of the men. She just paid for it because she said it made her feel better. She's the former chairman of neurology at Mass General Hospital in Boston, Anne Young. As neuroscientists — that's just who we are. But also we believe that the female brain is good, and that there should be more of them, and that they should be in positions of power. But the neuroscience thing is just our jobs.
Our bus ride was supposed to be seven hours, but I think it was more like nine. It gave me time to knit. (I tried to make a hat, and I never finished — but I'm working on it.) The ride was fun. People sang, there were babies, and we all said how cute was your baby and can we knit you a hat, that kind of thing. We're staying outside of town, but we're leaving tomorrow morning.
Suzanne, Michoacán, Mexico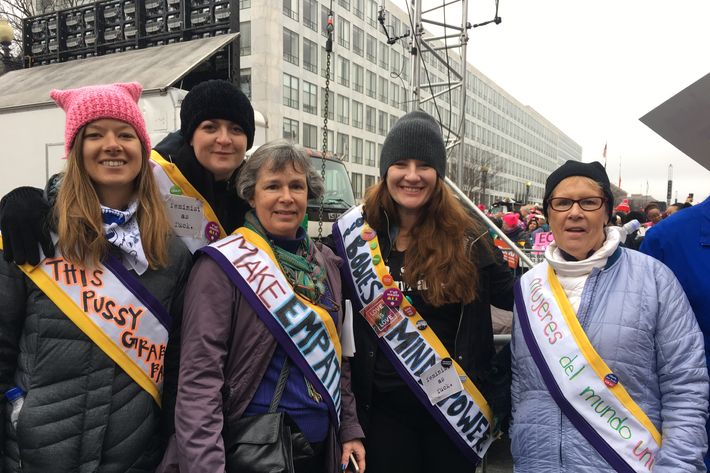 I flew here. You can fly from Mexico City straight to D.C. really easily. I came here first of all because I work a lot with underprivileged girls in Mexico, and I'm very concerned with immigration issues for not only Mexican women, but for American women who are married to a Mexican partner. As a matter of fact, I was looking at a post in my little town of Pátzcuaro yesterday. There are many of my friends standing on the Plaza Grande with signs that were protesting [on Inauguration Day].
There's a lot of concern about the economic impact [the election will have] on Mexico — Mexico has just started to rise into a very strong middle class, and with some of this rhetoric that's going on and Ford making a decision not to open one of the factories that they had already started building, there's much concern about middle-class jobs, and NAFTA is also a very big concern for people. Mexico's a very Catholic place, so abortion is not common. It's a different situation; there are many, many large families. So there's more family-planning issues than there are right-to-life issues.
My family is here. We're sister-in-law, daughter, cousin, and nieces, from Utah, Chicago, and California. So it's a women's family affair.
Tamara and Megan, Louisville, Kentucky
Tamara: We drove with the Planned Parenthood affiliate from Louisville. We wanted to be a part of the big organizing moment and show strength with our state and with our voices. So we decided to come, and our bosses let us off work yesterday to drive down. It took about nine hours.
Megan: But it was so worth it — especially being from a state that voted for Trump. A blue city in a red state can feel so isolating sometimes, but when you come to moments like this, you really realize that the movement is bigger than an actual person.
Pam, Sophia, and Rachel, Santa Rosa, California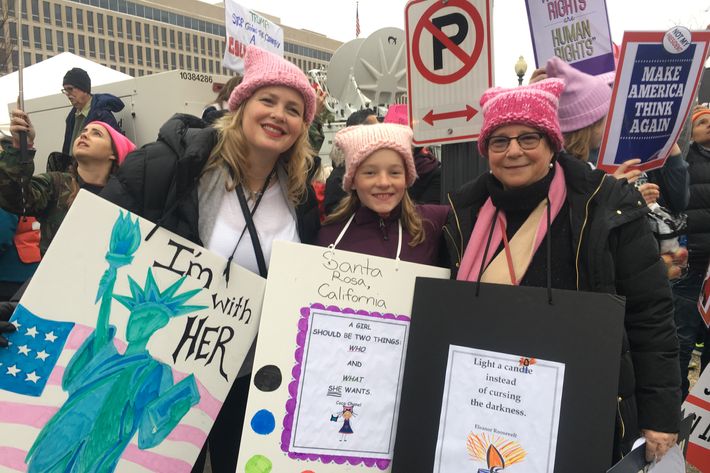 Pam: We flew — it was direct, about five hours, I think. It just seemed like the right thing to do. We all believe really strongly in women's rights — we're three generations, and so we thought this would be a historic moment to witness as a family, and as a nation as well.
Sophia: I just wanted to support my grandma and my aunt, and I also wanted to support Hillary because we really hoped that she'd break the glass and become the first female president.
Pam: We're standing up for women's rights, human rights, people's rights. We leave Monday night to go back home, because Rachel has to work and Sophia has school.
Sophia: [My friends are jealous I'm here] because they were going to go to the march in Santa Rosa but they had a volleyball game, or they had plans.
Steve, Calaveras County, California
Our flight was five hours and ten minutes; we got to town yesterday. We flew out of San Francisco, and I bet you, 90 percent of the folks who were on that plane, if not more, were flying for this event. They were all cheering, and lots of pink hats. It was fun. I just felt [going to the march] had to be done; what's happening to this country and what I fear could happen, it just sent shivers up our spines — my wife and I. We just wanted to make sure that our voices are heard and that we work towards a better future for our children and their children.
Ariana, Kalamazoo, Michigan
I was supposed to come here with my cousin and we were going to stay with my aunt, but she cancelled last minute and I decided that I really wanted to come anyways. I go to school in Kalamazoo, so I had to drive all the way back to Saginaw [which is two-and-a-half hours away] to get my parents to drive me to Detroit, so that I could fly to Philly, and take the bus to D.C. But I got here. I have two little brothers — they're five and seven, and I was really thinking about how I could show them that this person who they should be able to look up to, is not someone they should look up to, and how to show them that it's a good thing to fight against what's happening around them. I thought this was the best way to do that, not only for them but also for everyone who needs to know that his beliefs are not representative of all of us.