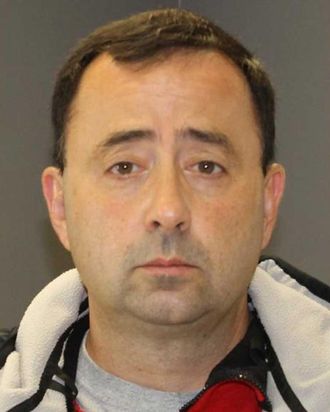 Larry Nassar.
Photo: Michigan Department of Corrections
Sixteen women will sue USA Gymnastics doctor Larry Nassar and Michigan State University — where he had a practice — for sexual abuse in federal court, NBC News reports.
Nassar, 53, has been facing allegations of sexual abuse since September, with up to 60 of his former patients filing police complaints. In December, Nassar was indicted on federal child pornography charges; FBI agents reported that he was in possession of tens of thousands of images, as well as video of himself molesting underage girls. During the child pornography hearing, Assistant U.S. Attorney Sean Lewis called Nassar a "hands-on offender," and said his behavior is "conduct that's been going on for more than 15 years."
Nassar was fired from his position at USA Gymnastics, the national governing body for gymnastics, in 2015 due to athlete "concerns," while Michigan State University let him go in the fall of 2016 after finding he hadn't "complied with requirements to use gloves and a chaperone during intravaginal treatments."
The Cut will update this post if any new information becomes available.