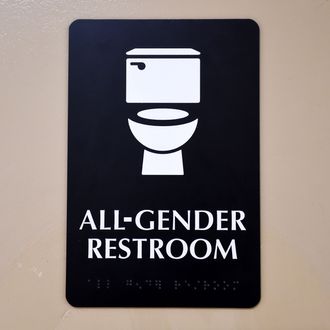 Photo: MARK RALSTON/AFP/Getty Images
North Carolina's anti-transgender bathroom bill, which Governor Pat McCrory signed into law last spring, cost the state hundreds of millions of dollars and was a large factor in McCrory's reelection loss to Democrat Roy Cooper. But despite the red flags, several other states are following in North Carolina's footsteps; at least three have introduced their own "bathroom bills" so far in 2017.
On Thursday, Texas lieutenant governor Dan Patrick introduced Senate Bill 6, which would require people to use bathrooms in government buildings, public schools, and universities based on "biological sex" and would block local governments from enforcing nondiscrimination ordinances. The bill would reportedly allow for schools to make accommodations for transgender students, such as offering them single-stall bathrooms.
In a press conference announcing the bill, Patrick said guiding it through Congress is "going to be a tough fight … but we know we're on the right side of the issue, and we're on the right side of history."
Meanwhile, lawmakers in Virginia introduced House Bill 1612 earlier this week, which states that restrooms in any government building must be "designated for use only by members of one sex," defining "sex" as what's written on someone's "original birth certificate." Trans people often change their government documentation when they transition, but Virginia's law means they would be required to use the identification issued at birth, even if it no longer applies.
Virginia's bill also encourages private citizens to sue the government if a trans person uses the bathroom that matches his or her gender identity, adding that "an individual may be awarded actual damages for physical and emotional pain and suffering." And as New York's Jesse Signal points out, it includes language that would force schools to out trans kids to their families — an action that could have deadly consequences.
Democratic representative Rick Nelson filed a similar bill in Kentucky this week; it also mandates that individuals use the bathroom that corresponds with the "biological sex" on their birth certificate. Nelson said he wasn't aware of a problem in regards to transgender people using the bathroom that matches the gender they identify with, "but we want to be vigilant about what could happen."
Alabama, Missouri, Washington, and South Carolina all introduced similar bills before the holidays, in many cases under the guise of protecting citizens' "privacy" in public facilities. So far none of the bills have been put to a vote, but the American Civil Liberties Union has said it will consider "every option" to protect transgender people's rights to public bathrooms — including suing any state that passes such regulations.