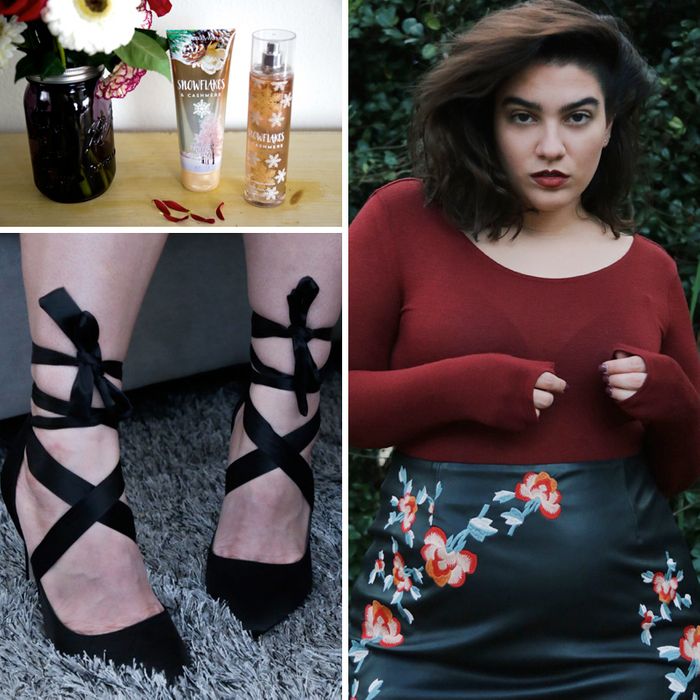 This column isn't only going to be about the politics of body diversity in fashion or about how to style certain looks. Every so often, I want to talk about my favorite things — a list that changes a lot, since I get bored easily. This month, I'm excited about big buckles, bodysuits, and metallics.
Photo: Amado Almonte
I love anything that can turn a plain black dress into something interesting, and these shiny buckles do just that. When I first began blogging, I'd seek out obnoxious belt buckles at thrift stores and try to make this kind of dress myself. Thankfully, brands like River Island have finally caught on so I no longer have to go on buckle scavenger hunts.
Photo: Amado Almonte
I really love metallics, and if I'm not wearing them in my outfit then they're on my nails. I recently stockpiled my favorite metallic Essie nail polishes for all the holiday parties I had to attend in December, but plan to wear them for most of 2017. My top three are Ready to Boa, Good as Gold, and Penny Talk.
Photo: Amado Almonte
I used to write for a magazine that said bigger girls shouldn't wear shoes with ankle straps because they don't elongate the legs. Well, you can see I don't care for that rule. I love lace-up heels, and this pair from ASOS make your feet look like beautifully wrapped presents.
Photo: Amado Almonte
I spent a lot of time at Bath & Body Works in my early '20s because they carried my favorite lotion and body spray, Brown Sugar & Fig. Whenever I think I'm over their fragrances, I'm sucked back in by something new and wonderful. They discontinued a couple scents I had become addicted to (R.I.P., Passionberry & Coconut Body Lotion), but I recently smelled thee new Cashmere Snowflakes collection and got hooked all over again. It smells like rich vanilla with brown sugar added, and it's a new favorite. They better not don't discontinue it!
Photo: Amado Almonte
I love anything embroidered, whether it's boyfriend jeans or mini leatherlike skirts like this one from ASOS. It's always easy to pick a color from the embroidery for an easy match to pull the entire look together. Forever 21 has the most inexpensive and comfy bodysuits — they have a lot of stretch and flatter all curves, and they are so affordable. This one's only $8.90.