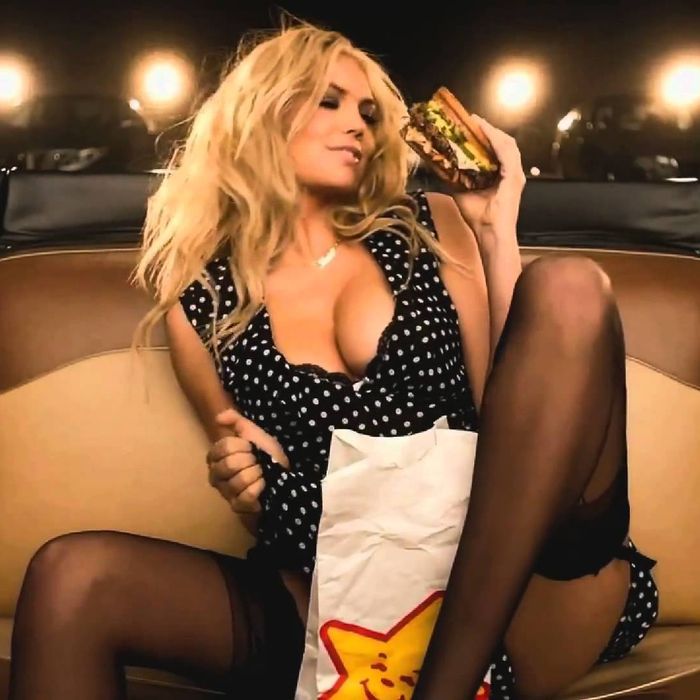 Customers with sex on their minds is purely coincidence.
Sixty-six percent of the women who work at Carl's Jr. or Hardee's have been sexually harassed on the job, a new survey by the advocacy group ROC United says. Workplace harassment isn't uncommon at all in fast food, but two women out of three is a much higher rate than the industrywide average, which falls around 40 percent. ROC United calls this "no surprise," given that the CEO of parent company CKE Restaurants is Andy Puzder. Trump's pick for labor secretary has a long, long history of objectifying women, and even his own workers — that is, the people he's nominated to protect — have said his appointment would be tantamount to enshrining "low pay, wage theft, sexual harassment, and racial discrimination."
That group of two-thirds of female workers told ROC United harassment occurs "almost every day" for some of them, and comes at the hands of managers, fellow co-workers, and random customers. They said men frequently wonder aloud why they "don't dress like the women in the commercials." Some wrote that customers have "asked to see my chest," "asked to have sexual intercourse," "continually" left flirtatious notes, or even followed them into the parking lot. Puzder, for his part, has defended scantily clad women as a burger marketing tool by noting that "I like beautiful women eating burgers in bikinis," and "ugly [models] don't sell burgers." Which is why he made fat person Kim Kardashian promote a salad.
If this seems pretty bad, it honestly gets worse: The survey adds that, almost unprecedentedly, nearly one-third of the respondents also reported suffering some kind of wage theft, the chain continually "struggle[s] with safety violations," and 79 percent of respondents said they've worked while sick, which is "higher than the rate in any of the cities we have previously surveyed." All told, a solid list of reasons to rethink getting a Carl's Jr. burger "all over the place" and "in your face."