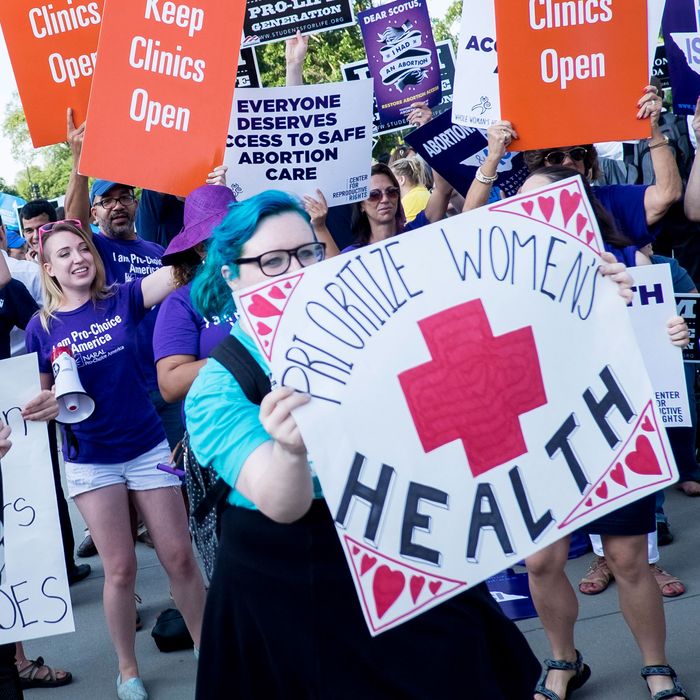 Protesters.
Photo: Pete Marovich/Getty Images
While many people worry about the potential threat to Roe v. Wade that the impending Donald Trump presidency represents, recent findings from the Pew Research Center show that 69 percent of Americans don't want the historic U.S. Supreme Court ruling overturned.
President-elect Trump has said he plans to appoint anti-abortion justices to the Supreme Court, so that Roe v. Wade — the pivotal 1973 decision that legalized abortion in the United States — would be overturned. In that instance, states would once again have the authority to regulate abortion within their borders. However, the fate of Roe largely depends on whether the three liberal justices aged 78 and older die or step down from the bench during Trump's presidency. If the current makeup (including a conservative replacement for the late Antonin Scalia) remains, the decision may be safe.
According to the Pew data, nearly seven in ten Americans want the decision to stay in place. The figure represents an increase from a January 2013 poll, which found that only 63 percent of Americans wanted Roe to remain intact. And, back in August 1992, only 60 percent of Americans were in favor of upholding Roe in its entirety, evidence that public support for the decision has increased over the years.