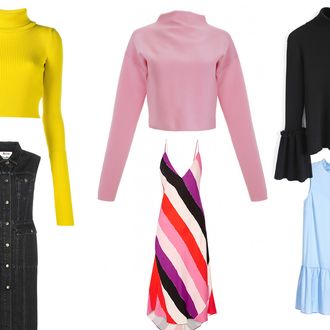 Layering is a breeze when you're wearing a long-sleeved shirt under a tee, but mixing a mini dress and a sweater (that won't bulge underneath) is more complicated. Luckily, we've come up with seven no-fail ideas for wearing this winter trend that's both practical and a lot of fun.
Combining two pieces from separate seasons allows you to up the cost-per-wear of that slinky designer dress you just had to have, and it gives you a chance to be inventive with your clothing instead of wearing it the same way a hundred times. Scroll down for some fresh ideas for layering this winter.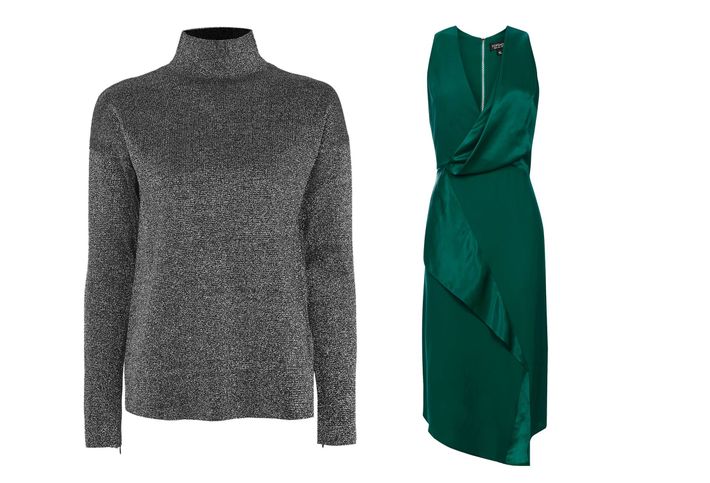 A simple, graceful draped dress is always a good idea for the office, but if yours happens to be sleeveless or a little skimpy, a metallic turtleneck will give it a polished vibe.
Topshop Dress, $100 at Topshop, Topshop Sweater, $125 at Topshop.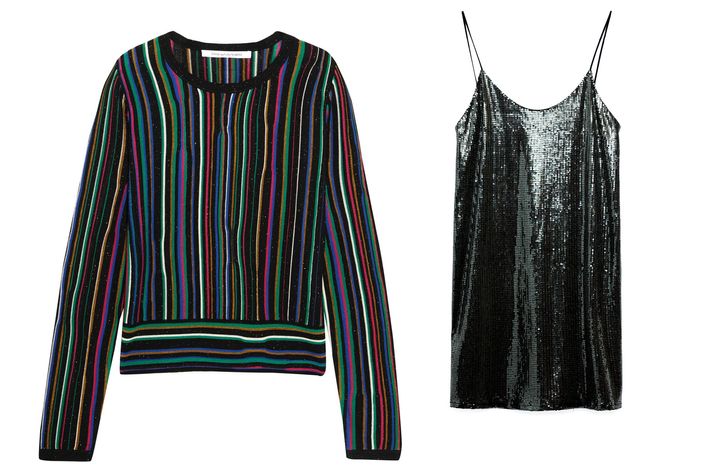 So you caved and bought a sequined dress for New Year's Eve, and now you're ready to throw it out because you don't know when you'll ever wear it again. That problem is easily fixed with a striped metallic sweater and black tights, which make it feel less like a party look.
Zara Dress, $22 at Zara, DVF Turtleneck, $250 at Net-a-Porter.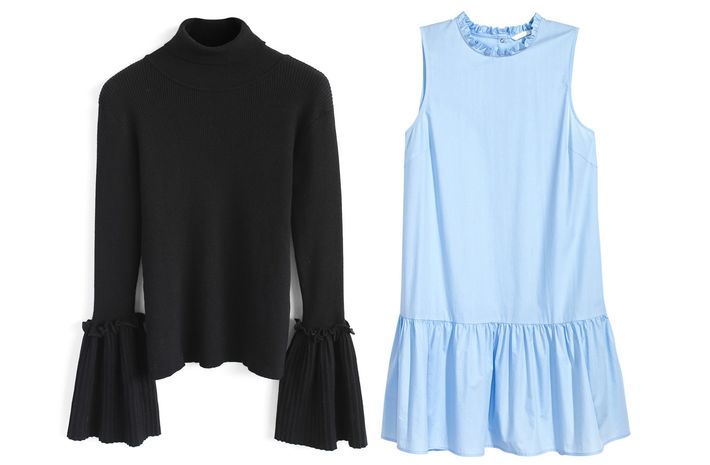 Everyone fell for billowed cotton shirtdresses last summer, and yours is probably in the back of your closet as you're reading this. So if you want to reuse one you already have, layer it with an equally on-trend bell-sleeve turtleneck that will add some dimension to the layers.
H&M Dress, $25 at H&M, Chicwish Turtleneck, $50 at Chicwish.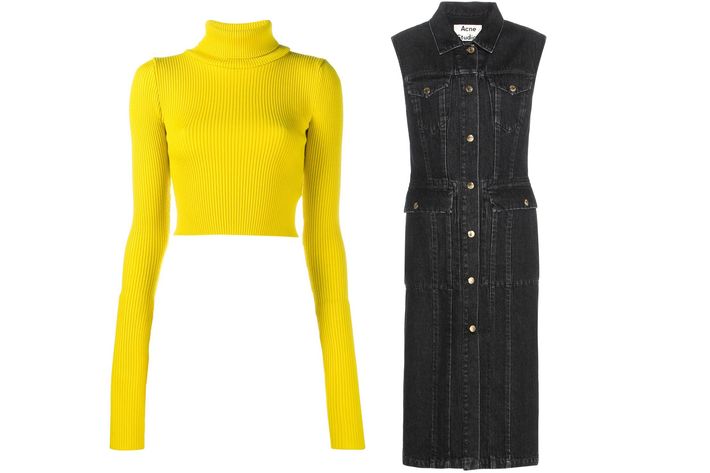 Pair this Acne Studios denim dress with a bright yellow cropped Jacquemus turtleneck. It's guaranteed to get more attention than the white cashmere pullover you were planning to wear it with.
Acne Studios Dress, $329 at MyTheresa, Jacquemus Turtleneck, $390 at Farfetch.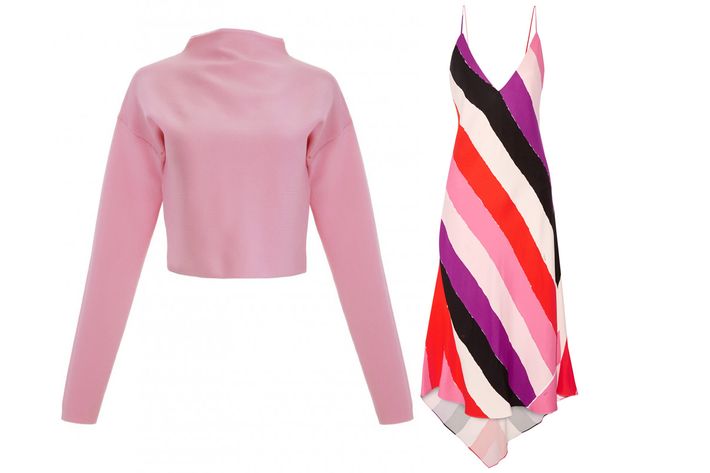 For a light, flowing dress like this one from Emilio Pucci, it requires more than a thin sweater underneath because you want the layer to feel like an essential part of the outfit, not a desperate attempt for warmth. The solution? A sturdy mock neck cropped sweater. The sturdiness of the material will make it look like a smart contrast to the sweetness of the dress, and the high neck is super chic.
Emilio Pucci Dress, $564 at The Outnet, Tibi Sweater, $365 at Tibi.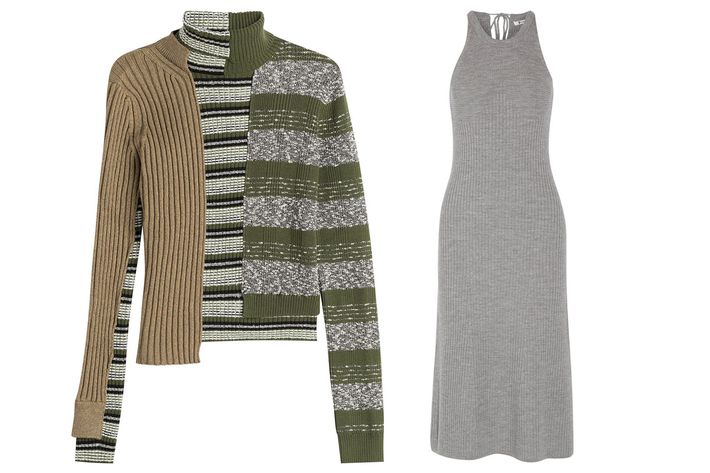 Plain midi dresses are a dime a dozen, and they're usually worn with a denim jacket or cardigan. Instead, switch things up with an asymmetrical patterned turtleneck. While this one's significantly more expensive than the dress, it's the kind of "hero" piece that can turn a boring gray sheath into a cool outfit.
T by Alexander Wang Dress, $395 at Net-A-Porter, Maison Margiela Turtleneck, $1,489 at Stylebop.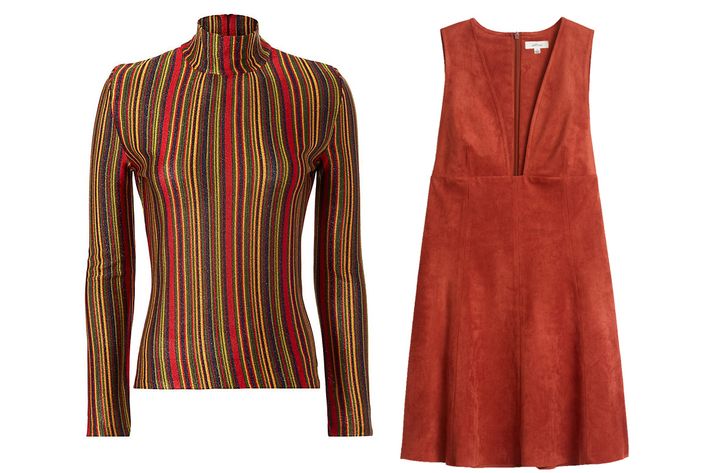 Seventies suede dresses were all the rage this summer. If you're looking for a way to repurpose yours or want to get in on the trend now, pair it with a turtleneck that gives it a bold update, like this lurex striped version from Marco de Vincenzo.
Aritzia Dress, $97 at Aritzia, Marco de Vincezo Turtleneck, $159 at Intermix.
If you buy something through our links, New York may earn an affiliate commission.