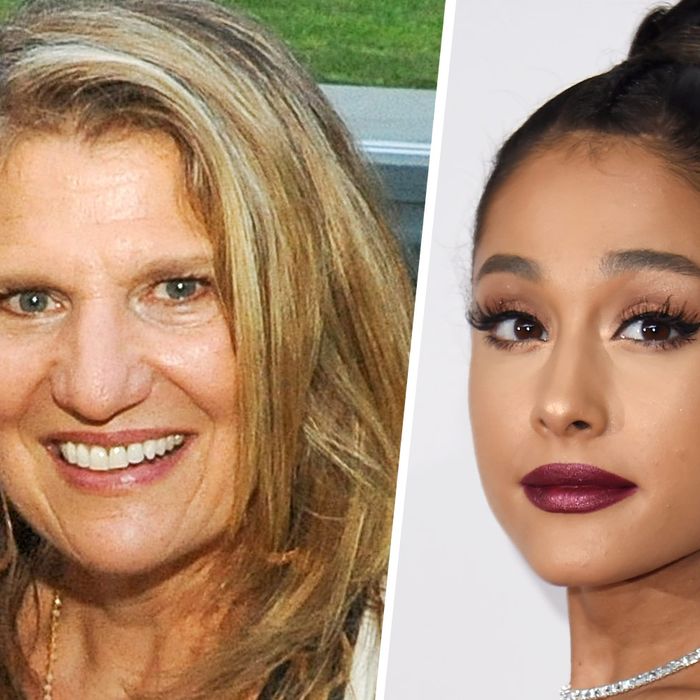 Mama Gena and Ariana Grande.
Photo: BFA; Getty Images
Ariana Grande — the collectible miniature version of a pop star and the hardest-working 23-year-old ponytail on earth — recently posted a book excerpt to her Instagram. "I rage with as much passion as I grieve," it read. "I would sell my soul for a night of ecstasy."
If you're thinking, "What to heck are you talking about, Ariana Grande?", we're here to help.

So who is Regena Thomashauer, the woman whose name was hashtag-captioned on Grande's post? Thomashauer is best known as Mama Gena, founder of Mama Gena's School of Womanly Arts.
Wait, and "School of Womanly Arts"? That doesn't sound like an accredited institution to me.
The 18-year-old New York–based school claims they teach women to "use the power of pleasure to have their way with the world" — more specifically, "about using the powers of desire, not effort, to attain your goals."
So what exactly does this entail?
It's pretty vague, but for starters, women who attend the school refer to each other as "sister goddesses." Really, the whole vibe is very "Yogi tea bag gets its first vibrator."
Here's how the classes looked in 2001, via a New York Magazine profile of Mama Gena:
So, on a typical weekday evening twenty New York women pack up their pussies in La Perla thongs and make their pilgrimage to Mama Gena's brownstone in the West Eighties to learn to say the word ("They shout it!" Mama Gena swears. "We have to restrain them sometimes!") and to take classes with titles like "Training Your Man," "Power Play: The Art and Science of Hexing," and, of course, "Trust Your Pussy."
Uh.
Okay, here's some more detail:
The class meets weekly for three hours at a time. In addition to the brag, each class has a theme. Pussify your wardrobe, for example (that is, throw out anything that makes you feel less than foxy), or dress up as your favorite woman from history or fiction (several Jackie O's, a Princess Di here, an Auntie Mame there). There is homework, too, such as watching Mae West movies, or practicing Pussy Appreciation. "Look at your crotch every day," reads a handout. "Write in a journal three things you like about it. Touch your crotch in different places and see what feels good, write in your journal and bring it to class."
The class structure appears to have changed since the profile was written — the program has grown quite a bit — but the general ethos is still very much the same.
I'm going to regret asking this, but how much does this stuff cost?
They're currently advertising a "Mastery experience" that runs for $4,950 if you pay up front and $5,450 if you pay on a monthly basis.
$5,000! Between the money and the content of what you're describing, this program sounds like it would be rife with drama.
You're not totally wrong. Back in 2003, Mama Gena's right-hand-woman — Auntie Beth Schoenfeldt — left to start her own similar business, For Love Only Incubator, or FLOinc. A New York Magazine item about this quoted one woman who switched from Mama Gena to Beth saying, "Mama Gena's definitely a bitch!" FLOinc does not appear to exist anymore, but Mama Gena's still chugging away.
Doing what else?
And now we come full circle to Ariana Grande, whose Instagram post was an excerpt of Pussy: A Reclamation, the book Mama Gena released in September 2016. "This book is written to reacquaint a woman with her own power source," the description reads. "Which is the part of herself she has been taught to ignore, push down, and despise." It was a New York Times best seller.
Love and light, sister goddesses.