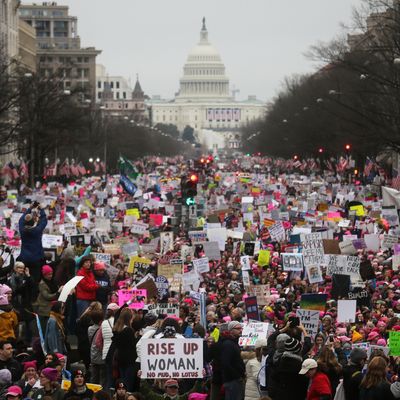 More than half a million people turned out for the march at the nation's capital.
Photo: Mario Tama/Getty Images
The Women's March in Washington, D.C., was absolutely breathtaking, a thing that few in attendance will forget. The signs were out en masse, the outfits were beautiful, the pink hats oozed solidarity, the chants about how Donald's tiny hands could never build a wall were perfect, and the passion and anger were palpable and genuine and necessary.
Taking a quick break to recharge my phone, I witnessed something that gives me hope for America's future.
As a woman with a Trump scarf on climbed into the backseat of a black Suburban — her driver standing by her side, eagerly waiting for her to sit down so he could close the door — she kept lunging out of the vehicle to give her commentary on the scene around her. She was clearly disgusted by the marchers surrounding her car. At one point, the woman in the Suburban said to a passerby:
"If you people had jobs, you wouldn't be out here doing this mess."
As this happened, another woman walked by and, without pausing to look at the Chevrolet Suburbanite, said:
"Bitch, it's Saturday."
Today was a great day.