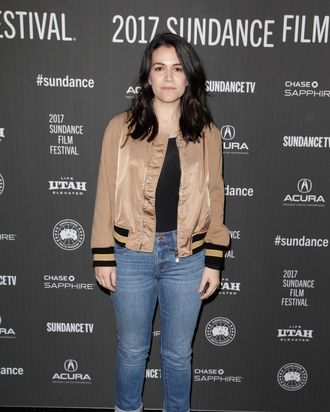 Abbi Jacobson.
Photo: Tibrina Hobson/Getty Images for Sundance Film Festival
Abbi Jacobson's new movie Person to Person will surprise Broad City fans with Jacobson's quiet, self-contained performance as a nervous reporter on her first day on the job. As Claire, she's forced to ride around with her boss, Phil; together, they spend the day driving, listening to death metal, and trying to get to the bottom of a local murder. The film also stars Tavi Gevinson, Michael Cera (as Claire's boss Phil), Michaela Watkins, and the Safdie brothers.
In an interview with the Cut, before heading to the Women's March on Washington later that day, Jacobson discussed pushing boundaries, how life has changed since Broad City, and what she's reading.
Your character has a difficult job.
That job is not one I would ever want. I used to have to do cold calls for an old job, which is a little bit similar, where every time I picked up the phone it was very anxiety-inducing, where you're like, I'm going to invade someone's space and time, and try and get them to do something I want them to do. That's sort of similar to this type of reporter, which is like, you are just throwing yourself in front of someone and you're asking very personal questions, and it's very uncomfortable. So I could kind of get into that mind-set, but I liked the part because she's really introverted and quiet, and it's still a version of myself but it's not the one I usually play. Like, [her] sparseness of words, everything. I particularly wanted to be, like, really contained.
It's interesting to have a quiet character where they push themselves outside of their comfort zone almost on purpose. Do you do things like that?
Even doing this movie — this one wasn't so scary, but I did have to learn how to ride a scooter, and I rode over the bridge. It actually was very scary, and I was excited about that.
I just did a movie this fall that was very scary for me. It was way more dramatic, and I did it specifically because I knew it would be challenging and scary. I haven't seen it yet, so who knows, but as an actor, I hope to make choices like that while also sticking to my wheelhouse at the same time. But, yeah, I can relate to that too. I guess she does it unsuccessfully. I think anytime you do something that makes you nervous it's good, a little bit … Even if it goes badly it was an experience. I even think with Claire, it's better that she did it and tried, even if she did just go back to being a librarian or whatever. At least once you're in the librarian job, you know you tried the other thing. So there's not a regret, where it's like, Maybe I could do this big thing. You tried it. It didn't work out.
How do you feel about the upcoming Women's March? You're leaving this afternoon, right?
I was pretty anxious about it in the past couple weeks, and now I'm more excited. I think it's going to be a really positive event in this terribleness. I've never done anything like that … I guess I don't know if I'd say I'm excited because it's such a dire thing, but I'm happy to be in a place with so many people that are in the same mind-set of positivity in this negative time.
Everyone is feeling pretty freaked out about the inauguration this morning.
We put out a [Broad City] thing today that you should watch. It will make you feel better, a little bit. We shot it last week. It's like real time of us — the characters — watching the inauguration. We haven't shot anything in a while, and we were like, "We have to do a video for that because we've gotta do something."
Do you find social media and just the ease of technology makes your creativity and your collaboration easier?
In the Broad City world, it does. We have a great person, Genevieve, who runs our social media, and she comes up with great ideas, sends us every week what the plan is, and then we constantly send, like, "It's this person's birthday, let's post something" … or this thing happened, we want to post something in response, so we have a really good relationship. Stuff like Hack Into Broad City we do in the middle of our season, these video chats, and it's cool. Comedy Central is always like — we told them we wanted to do this, and they were like, "We'll make it." It's very cool.
I find social media for myself to be a bit challenging. I don't like it right now. I took Twitter off my phone since the election. I had curated it where it was a news source, but it was just too much. I recognize it as a very powerful tool and way to use your voice, I just feel like for me right now I can't do it … I just go on to the New York Times app or my news app thing now instead of [Twitter] … And I do feel better about not being on it.
How has your daily life changed since Broad City?
When we're working … We have a schedule. I'm going to work. I don't know if it's some weird psychological thing, [but] I think I purposefully forget what I do to walk around the city. I take the subway to work, and I'm just doing things how anyone else would do it, and then when someone does recognize me, I'm always surprised. I always remember. I think it must be something I've done to psychologically — I can't think about it all the time, so I'm just like, oh, right! Oh, you're talking to me because of the show. Right, I forgot. So, I think I also really like where I am right now. I operate under the radar, and I think I maybe look different than I do on the show a little or something, because even more so now I'm under the radar. Or maybe the show's not on or something. I look maybe older. [Laughs]
But you don't have people wanting selfies all the time or anything?
It's not, like, crazy; it's like, every once in a while, people do things like that where I'm like, "I'm not the character." Every once in a while there's some weird person, but most of the time everyone's really friendly and I appreciate that they watch my show. It's pretty great. It depends on where I am … I like to be alone a lot, and I like to read and work in coffee shops, and that's what I've always done, and that's the thing that I don't want to even think anyone is watching me do that. So that's the main thing.
What are you reading?
I just finished that book The Girls on the way here, and I just started Eileen Myles's Chelsea Girls … I like that store McNally Jackson, and that was one of their recommendations, and I haven't read a ton of Eileen Myles. Is there something I should read? Recommendations? I just read The Mothers … They're all the ones on the front table with the cool covers! And I finally finished Phoebe Robinson's Don't Touch My Hair. She's a friend of a mine [so] I was spacing out her book because her essays are amazing and really funny and so smart and relevant right now.