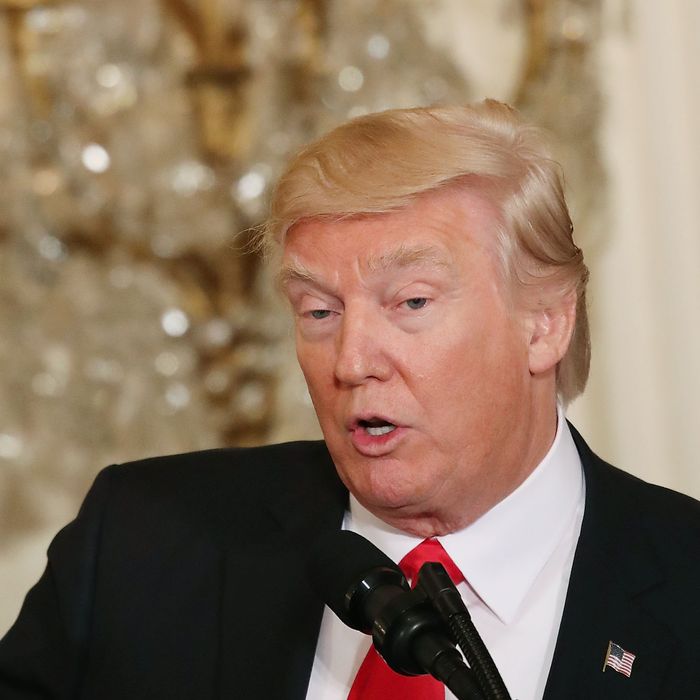 Donald Trump has some catching up to do.
Photo: Mark Wilson/Getty Images
Although Donald Trump's approval ratings have risen slightly since his inauguration, he's still not exactly popular. So during the March for Life in Washington D.C. on Friday, pro-choice activists decided to remind him of that fact.
The activist group UltraViolet hired a plane to fly a banner over the anti-abortion gathering that read "Abortion access more popular than Trump." And it's true: A new Quinnipiac University poll showed that 70 percent of voters agree with the Supreme Court's decision in 1973 to allow women the right to get an abortion. Only 26 percent disagree with the ruling — the lowest number since Quinnipiac first asked the question in 2005. What's more, the poll found that only 31 percent of voters support cutting off federal funding to Planned Parenthood, while twice that many (62 percent) oppose it.
"We know that Donald Trump cares about his approval ratings and doesn't care about facts," UltraViolet co-founder Shaunna Thomas said in a statement. "So here is a fact he, and those who will be marching today, will especially hate." And it's not even alternative.