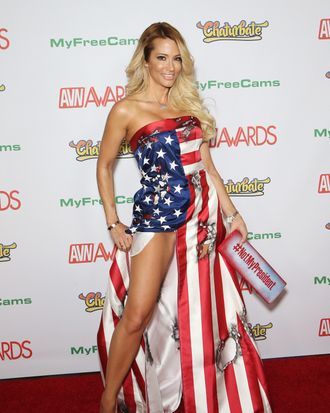 Drake wore a gown made to look like a burned American flag.
Photo: Gabe Ginsberg/Getty Images
Despite the ubiquity of celebrities with political opinions, and celebrities on red carpets — civil disobedience on a step-and-repeat is still pretty rare.
But leave it to a porn star to buck the trend. On Saturday night, at the 2017 AVN Awards, a.k.a. the "porn Oscars," held just off the Las Vegas strip at the Hard Rock Hotel and Casino, adult-film performer Jessica Drake brought her Trump protest to the carpet.
Drake — who has accused Donald Trump of kissing her without consent in 2006 and offering her $10,000 to be his date to dinner — walked the carpet last night in a gown made to look like a burned American flag, and a red clutch that read #notmypresident.
"When he said that anyone that burns an American flag deserves to lose their citizenship and be in prison, I got the idea to wear this dress," Drake told the Cut on the red carpet at the AVNs. "Obviously it is not an actual flag, but I want to get attention and to get people to think. If people are patriotic enough to be upset about what I'm wearing, then surely they are patriotic enough to know that the First Amendment gives me the right to wear it."
Drake, who was nominated at the AVNs for Best Actress, arrived at the red carpet from the airport. She'd spent the morning in Washington, D.C., marching and attending a press conference alongside her attorney Gloria Allred, and three other women who had also accused Trump of sexual assault — Temple Taggart, Summer Zervos, Rachel Crooks.
"I marched for LGBT rights, black lives matter, the rights of sex workers, immigrants," Drake said. "I think it is important that we hold the new administration accountable, and we really have to be on the ball with it, and this was a really great example, the potential in the situation, and that they will be heard."
Shortly after the press conference, Drake joined the Women's March on Washington, and told the Cut it left her feeling optimistic.
"The march was bigger than anything I have ever been a part of, and everyone was just really united and it was just so supportive and so kind and the march was so big and so promising," Drake said.
Drake said the event gave her a chance to meet Taggart, Zervos, and Crooks, and discuss their own experiences and the harassment they have faced after coming forward with their allegations against Trump.
"We acknowledged our own individual experiences that are so related and so similar," Drake said. "And I just thanked them, and said, I'm here for them if they ever want to talk, if it ever gets to be too much, we're all really strong, and that you can only read so many shitty things about you on the internet before it bothers you."
Trump has flatly denied all of Drake's and the other women's allegations. But Drake said Trump's response to her allegations, in which he suggested that as a porn star it was not unusual to be grabbed by men, motivated her to protest.
"As a sex worker, to have him counter with, 'Oh, she's a porn star, I'm sure she's been grabbed before,' — like that makes it okay, and sex workers and porn stars can't be assaulted. It was really harmful. I was really offended, and it is still one of the driving factors in what I'm doing today — to keep talking about it."