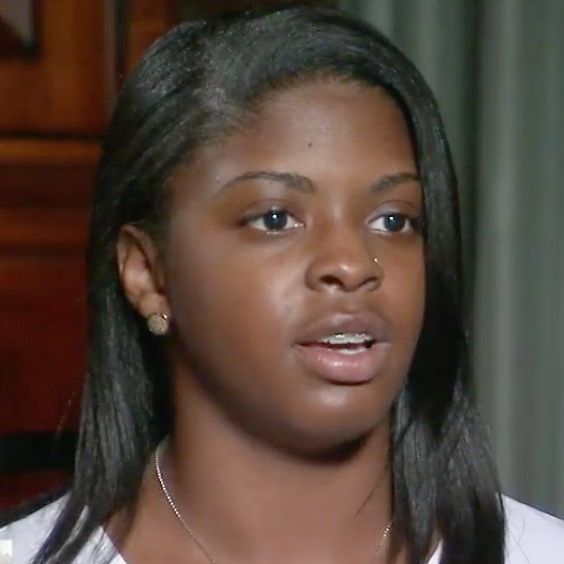 It's been less than two weeks since 18-year-old Alexis Manigo discovered that she had been abducted from a Jacksonville, Florida, hospital as a baby — and that the woman she had always known as "mom" was actually her alleged kidnapper. Now, in a new interview with Good Morning America, Manigo — who was born with the name Kamiyah Mobley — opened up about her experience.
Manigo told Good Morning America that she doesn't resent Gloria Williams for allegedly abducting her; instead, she feels Williams gave her a great life and will "always be Mom" to her. "She made one mistake, but I was loved. From that one mistake I was given the best life," Manigo said.
The teenager wouldn't reveal how she found out that Williams had abducted her, as she feels "obligated" to protect her in any way possible. "I understand what she did was wrong, but just don't lock her up and throw away the key like everything she did was just awful," Manigo said. "She loved me for 18 years. She cared for me for 18 years."
Manigo has since been reunited with her birth parents, and told Good Morning America that she's giving them a chance to get to know her. "I'm not saying they weren't going to be good parents. I'm not saying that at all. But it would have been a different life," she said.
The teenager apparently still talks to Williams on the phone every day, even though she's behind bars. Manigo is also currently working with her lawyer, Justin Bamberg, to get her valid driver's license, Social Security Number, birth certificate, and other necessary documents. Bamberg also addressed the online criticism both Manigo and Williams have received, encouraging people to try to put themselves in the teenager's shoes.
"Until you are in that situation, I don't think you should be so quick to judge," Bamberg said. "I want you to ask yourself, 'What would I say if I woke up tomorrow and I found out that my mother was not my mother?'"