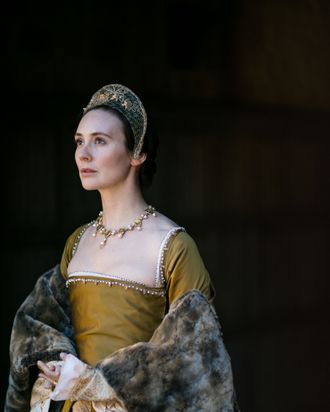 Claire Cooper as Anne Boleyn in Secrets of the Six Wives.
Photo: Courtesy of Laurence Cendrowicz / © Wall to Wall South Ltd
The new PBS mini-series Secrets of the Six Wives, which premiered Sunday, follows the lives of six women who married King Henry VIII in 16th-century England. The monarch was famous for his numerous marriages: Some ended in divorce, others because of death, execution, or his affairs. Other times he devised plans to get rid of them, plotting their beheadings so he could remarry. As revealed in the show, while the king presided over political movements like the English Reformation, each woman staked her own claim on British history during her reign — strengthening diplomatic ties, refining the country's education system, and presiding over the royal family.

Each woman became known for a distinct style, differentiating herself via clothing: Catherine of Aragon for her gold gowns, Anne Boleyn for French fashions, and Katherine Howard for her expensive jewels. King Henry VIII was an extravagant spender and didn't hesitate funding his wives' lavish wardrobes, as their ornate outfits were meant to showcase the royal family's wealth.
In costume notes from the show, costume designer Emma Fryer shared the stories behind each character's style on the show. Click ahead to see their signature looks alongside Fryer's commentary.
Secrets of the Six Wives airs Sundays at 10 p.m. through February 5 on PBS.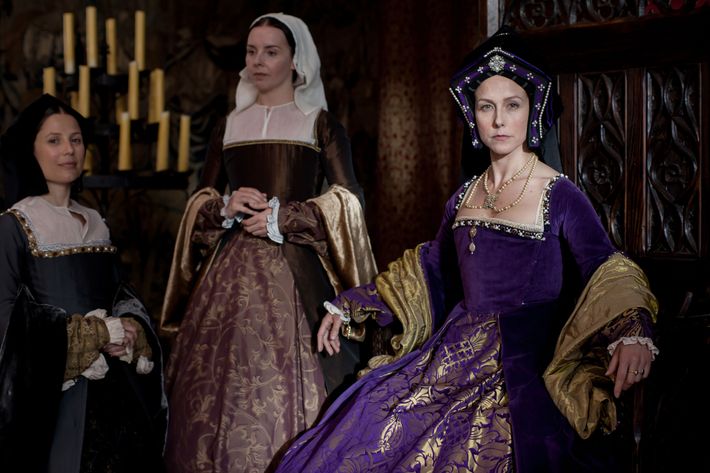 Wife No. 1: Paola Bontempi as Catherine of Aragon
Married to Henry VIII from 1509 to 1533. "Catherine of Aragon popularized Spanish Blackwork embroidery and the farthingale, a hooped skirt. The color black was a very Spanish style and Spanish clothing was intricate and elaborate, made with heavy fabrics. Catherine wore gowns of gold with large pearl necklaces from which hung a diamond cross. The preferred headwear for her was the English hood."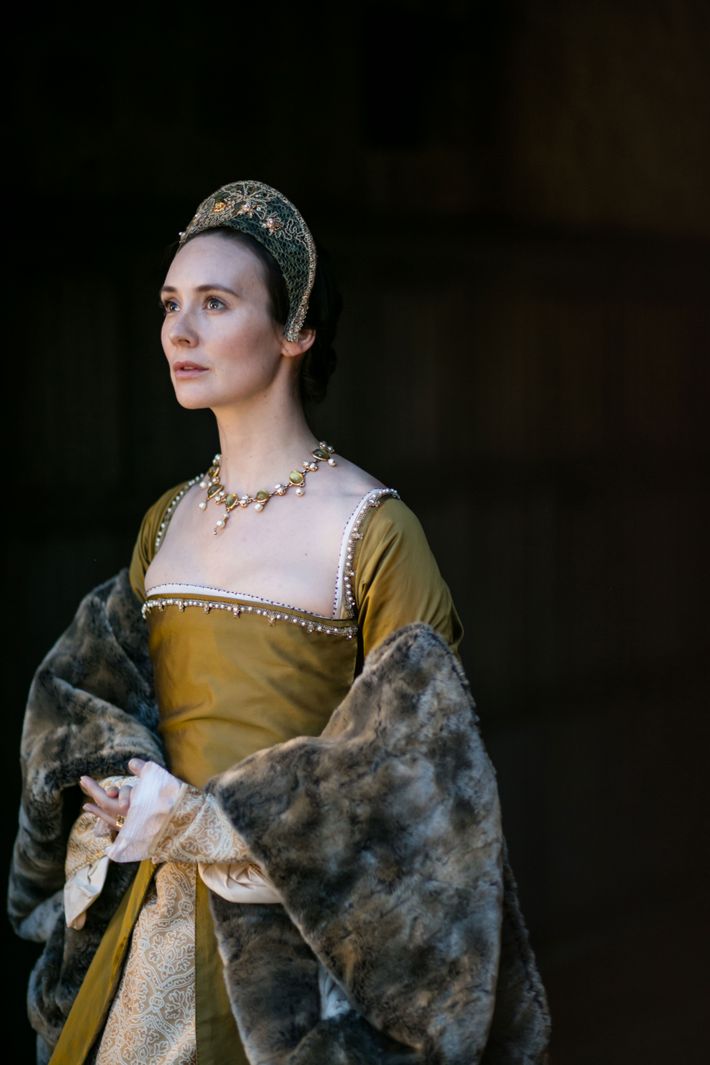 Wife No. 2: Claire Cooper as Anne Boleyn
Married to Henry VIII from 1533 to 1536. "Anne Boleyn was by some said not to be a trend-setter although she loved jewels and fine clothes. By others, however, it was said that she had immaculate taste for fashion. When she returned from France, she was influenced by French fashion and favored the French hood headwear rather than the heavily unflattering English hood."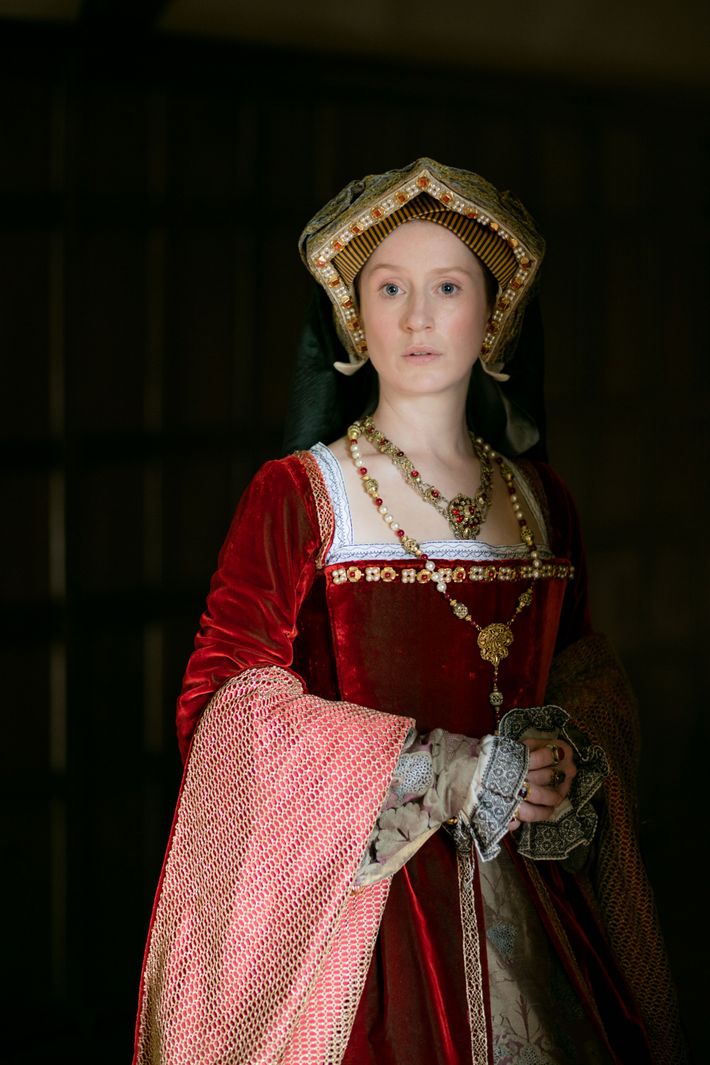 Wife No. 3: Elly Condron as Jane Seymour
Married to Henry VIII from 1536 to 1537. "Jane Seymour abolished the French fashions of Anne Boleyn's reign and reintroduced English clothing for her and her ladies. She also preferred the English hood headwear."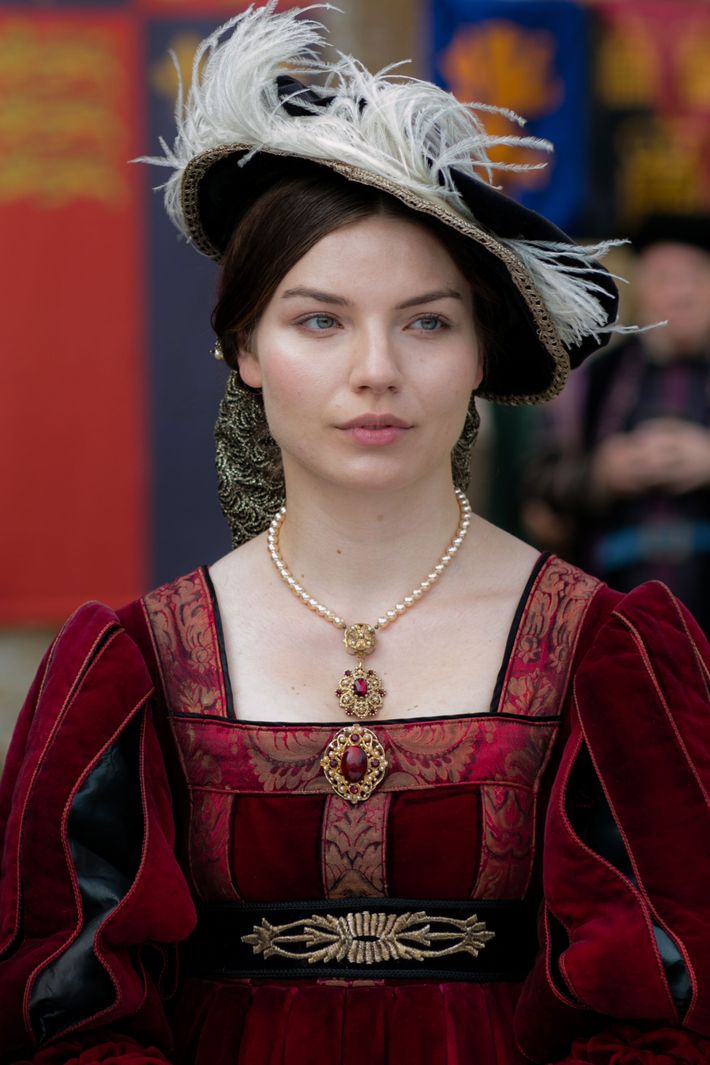 Wife No. 4: Rebecca Dyson-Smith as Anne of Cleves
Married to Henry VIII from 1540-1540. "Being German, Anne of Cleves wore German fashion. This meant that her dresses were a different shape than those of the ladies of the English court, typically high-waisted and with differently shaped sleeves. Anne also wore different shaped headwear: a short hood with a sheer veil at the back. This style was far from popular with the English courts."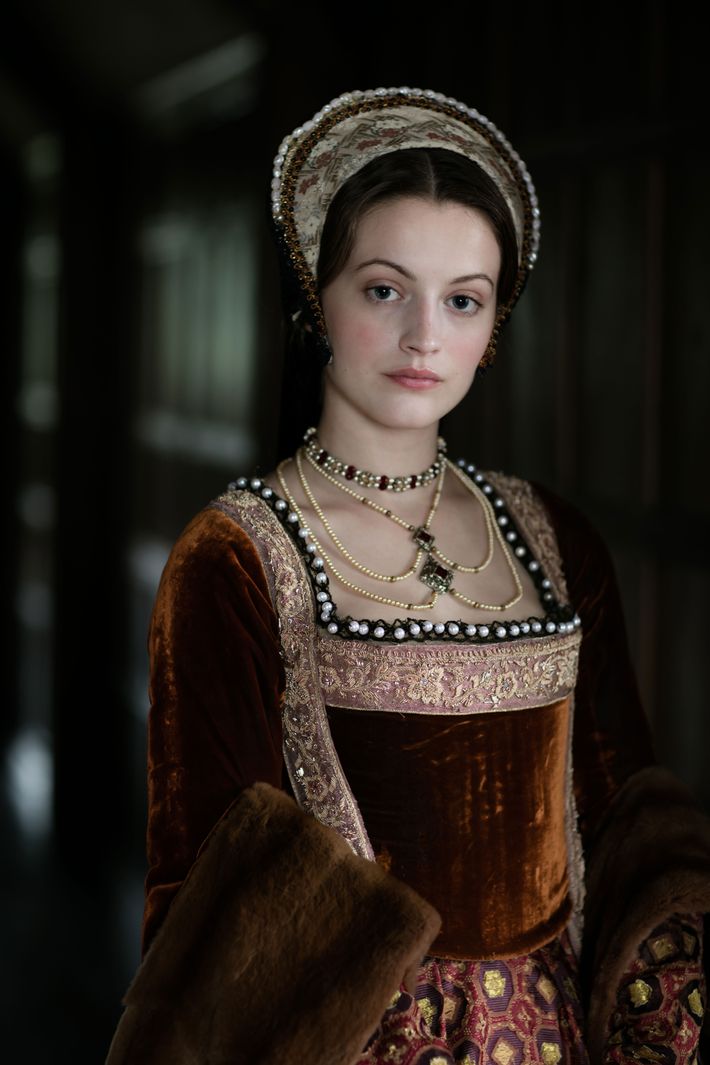 Wife No. 5: Lauren McQueen as Katherine Howard
Married to Henry VIII from 1540 to 1541. "Katherine Howard was a trendsetter and fashion lover, evoking glamour and sophistication. She loved fashion, dressed in the latest and most becoming French fashion, and loved to adorn herself in the finest fabrics and dazzling jewels."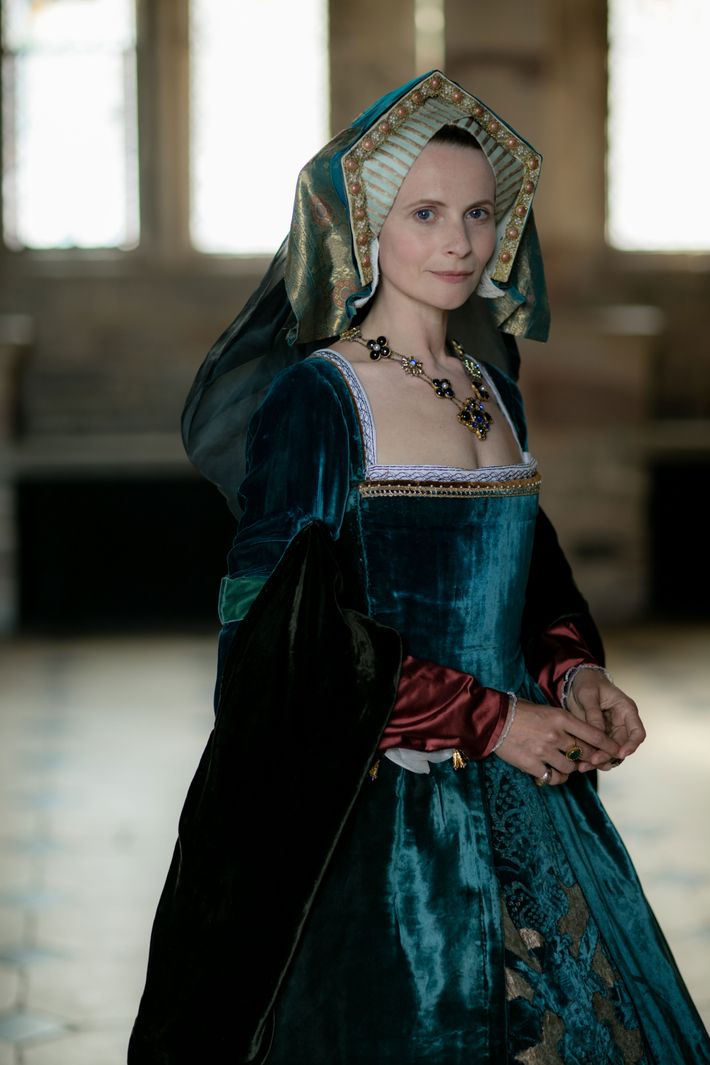 Wife No. 6: Alice Patten as Katherine Parr
Married to Henry VIII from 1543 to 1547. "Kathryn Parr went down in history as the frumpy wife who nursed the grumpy Henry through his illnesses. She is also, however, described in a very different way. It was said that she was a fashion icon who loved clothes and she was noted as one of Europe's snappiest dressers."