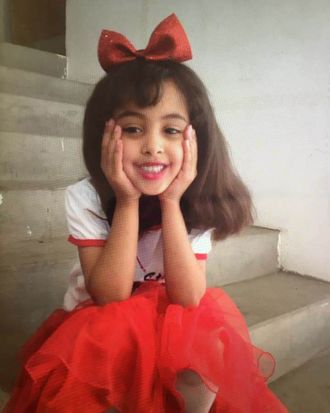 Eight-year-old Nawar Al-Awlaki, who went by Nora, was killed in a raid in Yemen.
Photo: Twitter
On Sunday, the U.S. military conducted a raid in southern Yemen that was reportedly intended to capture "information that [would] likely provide insight into the planning of future terror plots" from Al Qaeda operatives. A member of Navy SEAL Team 6, an elite group of commandos, died in the raid, which was the first under President Trump. And on Tuesday, officials confirmed that an 8-year-old American girl named Nawar Al-Awlaki was also killed.
Nawar, who went by Nora, was the daughter of New Mexico–born Al Qaeda leader Anwar Al-Awlaki, who was killed in a U.S. raid five years ago. At the time, some worried that the targeted killing of Al-Awlaki would "transform someone who was, at best, a marginal figure into a martyr," and Karen Greenberg, the director of Fordham University's Center on National Security, said Nora's death could be used the same way. "The perception will be that it's not enough to kill Al-Awlaki — that the U.S. had to kill the entire family," she told NBC.
This is not the first of Al-Awlaki's children to die during an American military strike. Her 16-year-old brother, Abdulrahman, was killed in 2011 under the Obama administration. (Asked why — the boy was not actively involved in terrorism in any way — former Obama press secretary Robert Gibbs gave the strange and discomfiting answer that Abdulrahman should have "had a more responsible father.")
The girl's grandfather and Yemen's former agricultural minister, Nasser al-Awlaki, told NBC that Nora had gone to stay at her mother's house, which is where the attack took place. "They entered the house and killed everybody in it, including all the women," he said. As for Nora, "a bullet struck her in her neck at 2:30 past midnight." He said she died two hours later.
According to the Pentagon, 14 militants and "numerous" civilians died in the raid; the Associated Press reports that nearly 30 people were killed. Al Qaeda has already released a statement calling the raid a "massacre," and saying the SEALs fired on women and children "in cold blood." But U.S. officials said some of the women Nasser al-Awlaki described were combatants, who fired on the SEALs as they approached the camp.