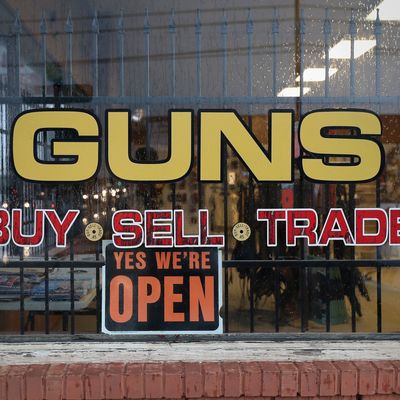 Photo: John Moore/Getty Images
You probably wouldn't expect a delegation from the American Foundation for Suicide Prevention to show up to the largest annual trade event for firearms sellers. And yet that's what happened at the 2017 SHOT Show, which was held last week in Las Vegas. As Maura Ewing writes in the Trace, the delegation, perhaps a bit out-of-place-seeming "among the rows of retailers hawking the latest models of firearms and tactical gear … had come to promote a unique partnership with the show's organizers on a nationwide suicide prevention program with the ambitious goal of stopping nearly 10,000 deaths in the next decade."
Joining the group in that partnership is the National Shooting Sports Foundation, which puts on SHOT. It might seem like an unlikely alliance until you realize just how big a part of the gun-deaths equation deaths by suicide are. "More than half of all suicides in the United States are carried out with a firearm, and gun suicides make up the majority of fatal shootings," writes Ewing. "In 2015, nearly two-thirds of all gun-related deaths in the country were by the shooter's own hand, according to an analysis by the Centers for Disease Control and Prevention."
The NSSF and AFSP, whose collaboration was highlighted in a recent JAMA article, are focusing on people who are in the midst of mental-health crises. As a bunch of research has shown, suicide is a more impulsive act than many people realize — there are plenty of cases in which it really can be life-saving to temporarily cut someone off from access to a deadly tool like a gun. This initiative is "intended to educate gun shop owners and shooting range operators on the risk factors and warning signs of suicide, and to provide guidance for family members who wish to restrict access to firearms from a loved one in crisis." Part of the hope is that word will then filter down from these trusted voices to gun owners themselves, making the entire gun-owning community safer and better informed.
The phrase "harm reduction" doesn't come up in Ewing's piece, but that's exactly what this is: a measure designed to accept that we live in a flawed world that isn't going to change anytime soon, and to improve public health to the extent possible given the constraints imposed by reality. "This initiative is starting with the reality that guns are in one-third of American homes so, given that, what can they do to keep someone safe?" Christine Moutier, chief medical officer for the American Foundation for Suicide Prevention, told Ewing. "We're simply saying have that caring conversation that should include offering to help them secure their firearms temporarily if they're having this crisis." In other words: The best way to reduce gun suicides would be to have fewer guns floating around, but since that isn't going to happen anytime soon (maybe ever, in this country), what else can be done to help keep people safe?
The program appears to make deft use of the power of social norms. Gun owners tend to be afraid of the idea of the government taking their weapons, so the collaboration is specifically structured to assuage these fears. For example, "A brochure [for the program] stresses that restricting a person's access to firearms while he or she is at risk for self-harm is a temporary measure, and put[s] an emphasis on storing weapons securely." This is a way of communicating to gun owners the message that People like you should care about this — there isn't an ulterior motive here. The fact that half of the collaboration is a respected gun-owners' group certainly helps matters.
It sounds like this collaboration is too early along for anyone to have good data on its outcomes, and this will likely be a tough thing to rigorously evaluate anyway. But the initiative comes across as very well-informed about which messages people listen to and which they ignore — which could, in this case, save a bunch of lives.