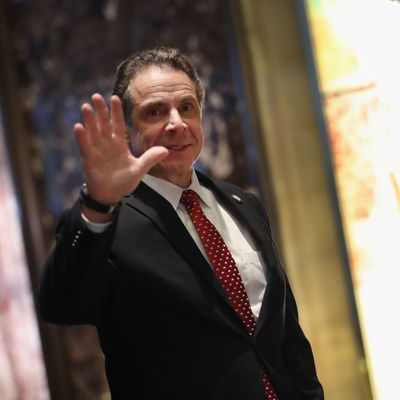 Andrew Cuomo.
Photo: John Moore/Getty Images
Early Saturday morning, Governor Andrew Cuomo announced New York health insurers will be required to cover medically necessary abortions and most forms of contraception — a move that expands and protects reproductive rights for New York women as a direct refusal of President Donald Trump's agenda.
In addition to preserving parts of the Affordable Care Act (which Republicans are moving to repeal), New York State will now mandate health insurers to cover a woman's initial three-month supply of contraception and then a supply for up to 12 months, according to the New York Times. (Right now, insurers often cover only a month's at a time.) "And abortions deemed medically necessary by a doctor will no longer be subject to co-payments or annual deductibles," reports the Times. Once the new measures are filed, they'll be set to take effect in about two months.

Cuomo made the announcement while an estimated 2.6 million people in Washington, D.C., New York, and around the world prepared to join women's marches in protest of Trump's presidency. The news is Cuomo's latest reveal after he spent the past two weeks unveiling an agenda focusing on liberal issues like child-care tax credits, renewable energy, and criminal-justice reforms. "Women deserve to make a fair wage and the same salary as any man, they deserve to work in an office free of sexual harassment, they deserve comprehensive paid family leave and they deserve control over their health and reproductive decisions," he said in a statement reported by the Times. According to estimates from Cuomo's office, the new regulations will impact about 1.25 million women in the state of New York who are covered by commercial insurance policies.