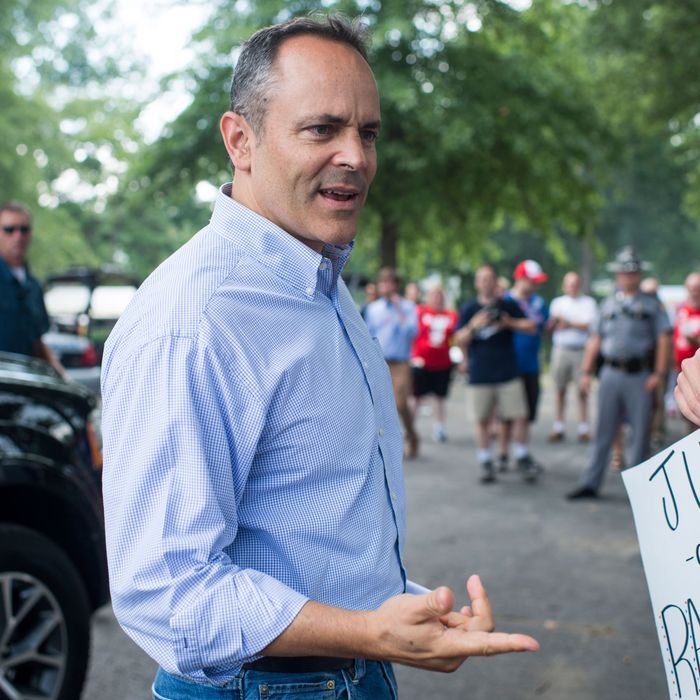 Kentucky Governor Matt Bevin.
Photo: Bill Clark/CQ-Roll Call,Inc.
Yesterday was the first day in nearly 100 years that Republicans controlled both the House and Senate in Kentucky, and anti-choice lawmakers wasted no time introducing restrictions on abortion. During the first day of the 2017 legislative session, lawmakers filed Senate Bill 5, which would ban abortions after 20 weeks gestation and House Bill 2, which would require women seeking abortions to have an ultrasound and view the results. The Kentucky Senate passed the 20-week ban today, meaning the measure could be headed to pro-life Governor Matt Bevin's desk for a signature as early as this weekend.

But when Governor Bevin took to Twitter to weigh in on a separate bill, he used a familiar-sounding phrase:

Hmm, "freedom of choice." Where have I heard that before …
Protesters from Planned Parenthood and the American Civil Liberties Union of Kentucky held a rally in the state house today before the bills were voted on. Two women held up a large banner of Bevin's tweet outside of his office. This tactic is also familiar.

This post has been updated.