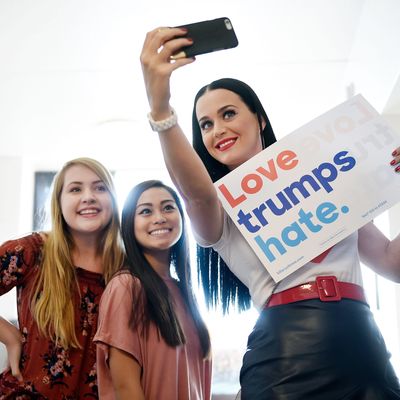 Katy Perry with fans.
Photo: David Becker/Getty Images
This week, organizers sent out a press release announcing the lineup for the Women's March on Washington. Stacked with some of our most popular female stars — Katy Perry and Cher, Amy Schumer and Samantha Bee, Debra Messing and Julianne Moore — the march has all the ingredients for a politically enlightened music festival lineup: Wokechella on the Mall, 2017's most empowered celebrity branding opportunity. (See you there, Matt McGorry!)
Bob Bland, one of the march's co-chairs, says that the formation of an "Artist Table," chaired by actress and activist America Ferrera, is their way of reaching people who might otherwise never hear about the march. "The Artist Table is primarily a way for the march to bring in this diverse range of talent who also want to utilize their celebrity and take that platform and use it in order to promote the message of the march and inspire people to action," Bland told the Cut. "It's important that we reach as many people as possible within America. Because I would say one of the mistakes about progressive campaigns is that they're always reaching out to the same people, to their specific base, and they're not trying to reach other groups of people. So that's what we're trying to do here, is reach a wide intersectionality of people, and you have to reach people where they are. So the Artist Table is one way to do that."
It's puzzling logic, especially considering we've just reached the end of a campaign in which celebrity feminism failed to deliver the votes we thought it would. Clinton's campaign was perhaps the most star-studded in history, with everyone from Beyoncé to Leslie Knope stepping up to try and bring America's women into the fold. As we all know, it didn't work: Only 54 percent of female voters cast their ballot for Clinton, a margin much smaller than expected considering the other guy was accused multiple times of sexual misconduct. For white women, that number was much lower: Only 43 percent voted for Clinton. As Sarah Jones writes in The New Republic, one of the campaign's failures was employing "a candy-colored brand of female empowerment seemingly based on the assumption that white women's political priorities are influenced by the pop culture they consume." Not only did this alienate white working-class voters — and Trump has been stoking the fires of that anti-celebrity elitism ever since — but it also alienated many women on the left, who grew tired of the parade of pant-suited ambassadors peddling a brand of superficial female empowerment that fails to engage with real issues. By emphasizing the march's star-studded lineup, organizers risk alienating the very people they are hoping to attract.
Of course, the presence of celebrities is bound to garner publicity, if that's what the organizers want. But it's also likely to define the tone of the coverage, making the march less a unifying event than a collection of viral moments. Even with the most noble intentions, celebrity activism inevitably becomes more about the messenger than the message: We remember that Lena Dunham rapped in that Hillary Clinton campaign video, but have no idea what she rapped about. Enlisting celebrities as brand ambassadors for this immense cause risks diluting the stakes of the struggle by turning it into a marketing opportunity.
It doesn't help that the march's aims and values are already such a source of controversy. The march's stated goal is to "[represent] women and people who identify as women, of all backgrounds, races, religions, ages and abilities," but it has been dogged by infighting and allegations that some voices are being excluded at the expense of others. The march's white organizers initially chose the name the Million Women March — a name originally coined by the African-American women who marched on Philadelphia in 1997 — which led to allegations that they were appropriating the efforts of women of color while silencing their present-day contributions. The name was changed, and a group of diverse activists joined the organizing committee. Now, as race has become a focal point of conversation, some white women say that they also feel unwelcome. This lack of certainty over who is marching and what they are marching for means that control over the overall message is still up for grabs. By turning the event into a star-studded bonanza, the march risks being co-opted by a familiar breed of innocuous girl-power messaging —- the "Future Is Female" shirts and the "Fight Song" medleys — which resoundingly failed to stop Trump from taking the White House, but has proven so easy to package and sell. As Andi Zeisler writes in The Guardian, celebrity feminism tends to be more about identity than substance. "As with branding, celebrity isn't about complexity," she writes, "but about offering up an enticing package that the largest number of people can understand with the smallest amount of effort."
Which is not to say that celebrity women shouldn't march and speak out, just that there's a danger in relying on blanket star-power as a political organizing tool. The exciting thing about the march is it seemed to tap into an organic groundswell of feeling, a genuine desire to organize that hasn't reared up in generations. This marks the first time many women of this generation will have been involved in political protests, joining their mothers and grandmothers in fighting for rights they thought they no longer had to fight for. The organizers are touting the march as an "entry point" for a new wave of activism that participants can then bring back to their communities with them. While marches and protests have a fuzzy relationship to tangible change, they are a powerful way of bringing people together. The best-case scenario is that this is the catalyst for a new movement, ushering in a new era of feminist activity whose goals, aims, and modes of speech are ours to define. That kind of change doesn't fit on Katy Perry tour merch.