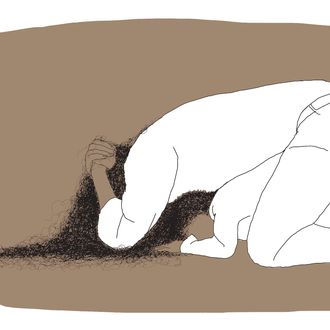 When Françoise Mouly, the art director of The New Yorker, and her daughter, Nadja Spiegelman, asked women and LGBTQ artists for submissions for a project they were working on just after Donald Trump's election, they were unprepared for the response. Within days, their request had been shared thousands of times, and by the time the submission deadline hit, they'd collected more than 1,000 comics and illustrations from artists across the country.
On Inauguration weekend, those submissions will be distributed across the country in the form of a tabloid newspaper called Resist! Its purpose is to capture the sentiment of a specific slice of postelection America. As Spiegelman told me last month, "It's exciting to create something that's a real reflection and distillation of a wider emotion."
Some of the drawings are defiant. Some are despairing. Some reference Donald Trump, and others showcase Bernie Sanders or Hillary Clinton. All are deeply personal. Together, they create a publication that Mouly calls a "propaganda of the left." "[I hope] people realize that the world they believe in has not disappeared," she said. "If anything, it's been strengthened by the fact that it was denied."
Click through the slideshow below to see submissions from Resist! with commentary from each artist.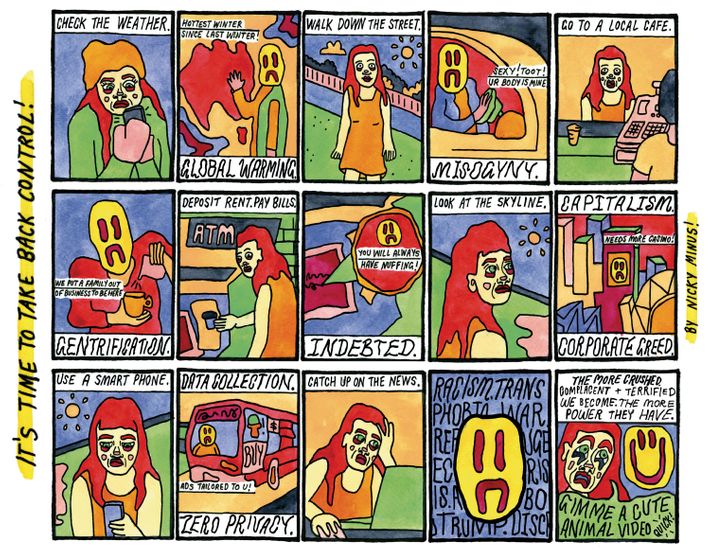 Nicky Minus
This comic was inspired by my personal relationship (as a young, white, cisgender woman) to the world and politics. It's about being faced with different structures of power daily: concepts/interactions you're against that you feel you have no control over and mechanisms/systems that you're against but still get caught up in. It can feel overwhelming and hopeless when you realize the scale of it, but if you don't resist these forces then you're helping ensure their dominance.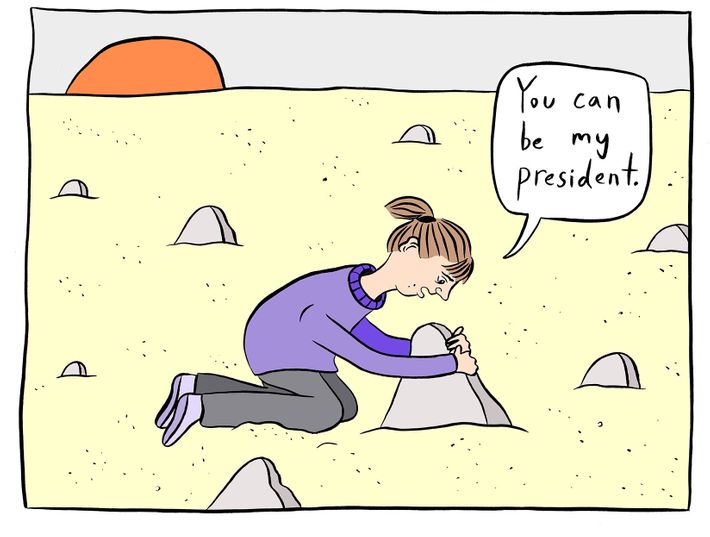 Lydia Conklin
I decided that, for my cartoon, I didn't want to use Trump's image at all — not his hair or his silhouette or a single tiny hand. The morning of Election Day I was so relieved that I would never have to see that face again and now it's all I see. I even saw his face in an article about Justin Bieber. Why can't I even look at kind, shiny-faced Justin Bieber without seeing that man? It's like not printing the face of a school shooter. You can't encourage copycats. Also, I would literally rather a rock be president.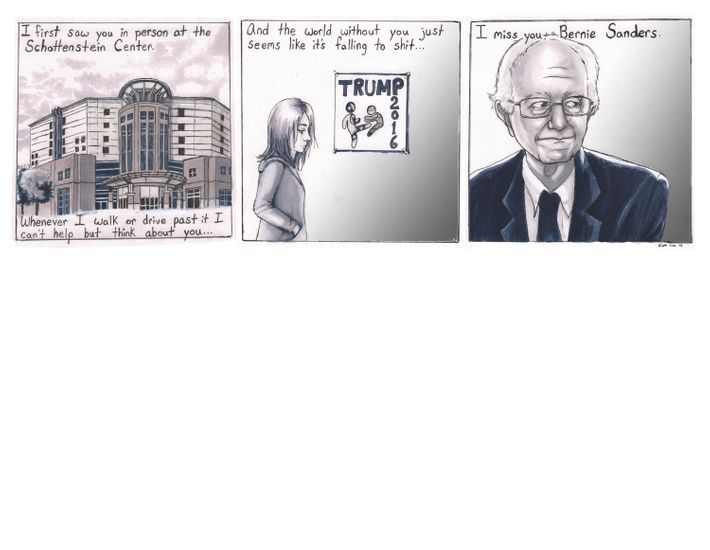 Kate E Lore
I never got behind a candidate in all my life as much as I got behind Bernie Sanders. I grew up on Medicaid, welfare, and food stamps to a single mother of four. For most of my life I felt too small and far away to ever affect politics. It all seemed beyond me, like something for the rich people to argue about. But when Bernie Sanders came into the picture I felt like somebody had finally noticed the people like me, like my friends, and my family. The disenfranchised, the minorities, the queer, the poor, the female. We all live here paycheck to paycheck, working our lives away, all while struggling to make rent, struggling to eat, to make student-loan payments, knowing that one wrong thing could easily collapse it all. Praying you don't get sick, praying they don't take away Planned Parenthood, our only source for birth control. Bernie spoke to me like somebody who truly wanted to help. He sparked in me a hope that I honestly didn't have before. When Bernie lost to Hillary I still had dreams that maybe we'd started a movement, steered things in a better direction. But then Trump was elected and I lost all hope yet again. Even worse, I was more aware than before. I could see now how bad things are, how bad it might become. I became aware of our flawed system, of our corrupted leaders, and the blind ignorance of people about to lead the country. I found myself remembering the hope I once had wistfully. I look back on it with longing, where the rest of me looks to the future filled with fear and dread.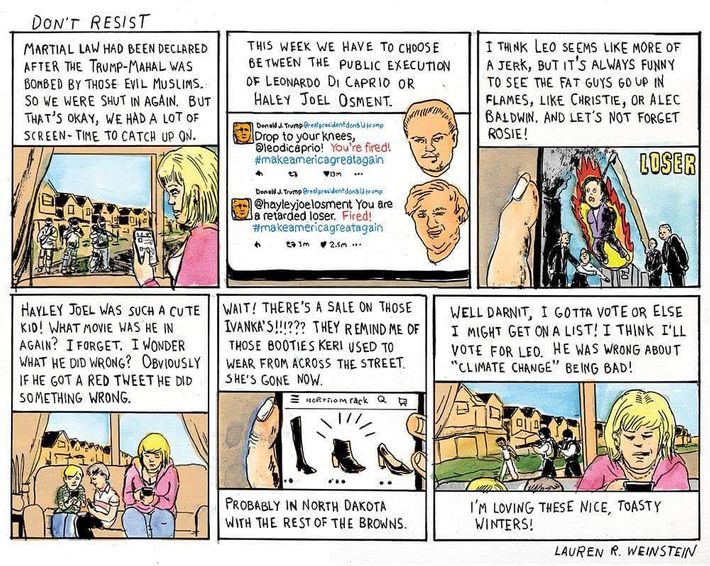 Lauren Weinstein
I'm 32 weeks pregnant right now, and for the two weeks leading up to the Resist! deadline I sat around trying to do a comic about bringing a baby into the Trump world. But everything is so totally unpredictable, and I kept drawing a blank. One night, a couple days before the deadline, my husband and I started to talk about all the tweets and demagoguery of the moment, and suddenly it became very easy to imagine a world where no one resists. My mind quickly went to a very dark place. While drawing I felt both giddy and nauseous. Now I can't decide how satirical this piece is. Being able to picture that "New Normal" makes me want to fight against it with every fiber of my being. And I'm scared of what the future holds for my unborn daughter.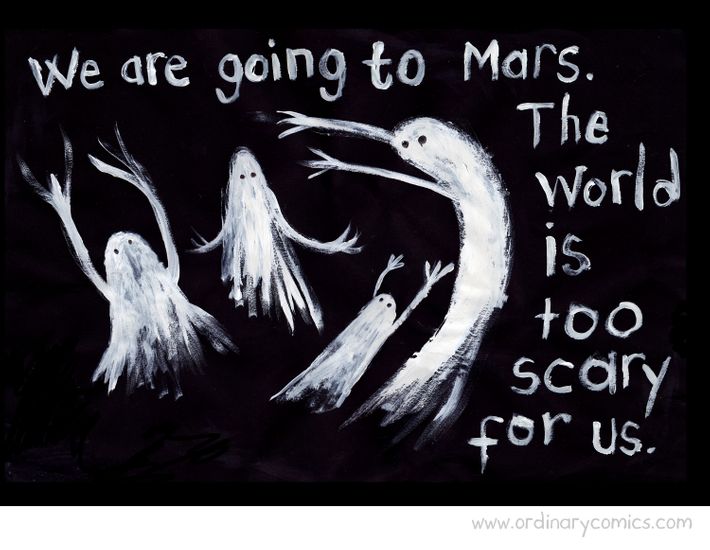 Ozge Samanci
"If Trump wins, I am leaving the country." We heard this from friends in a joking tone many times. The idea of leaving one's own country resonated with me, since I left Istanbul 14 years ago. My motivations then were not political, but leaving one's own country can be difficult and tricky on many levels. If we all keep leaving as the unexpected happens, where do we go in the end?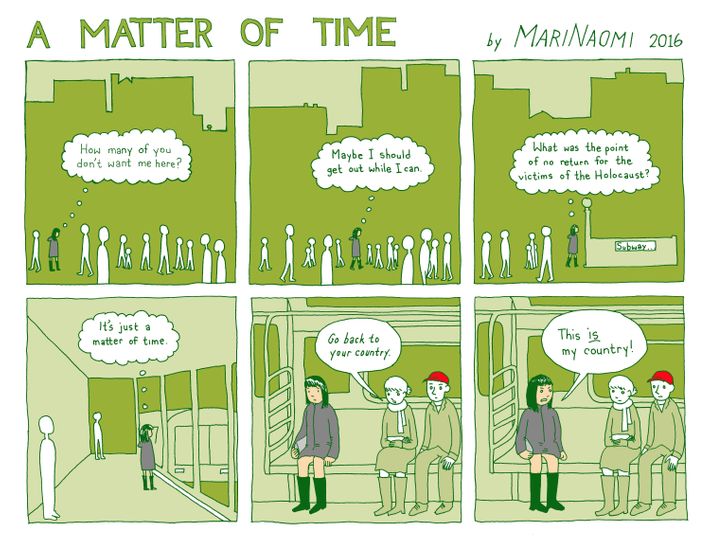 MariNaomi
Growing up as a woman of color in mostly white spaces, I got accustomed to being asked where I was from (I was born and raised in the U.S.) and getting the occasional, "Go back to your country." I didn't give it a lot of thought, as I believed that most people had good intentions, and the ones that didn't were an insignificant minority. After November 8, I can't help but wonder how many people don't want me here in my homeland. Suddenly the interest in where I'm "from" seems a lot more sinister, knowing that this may be the case.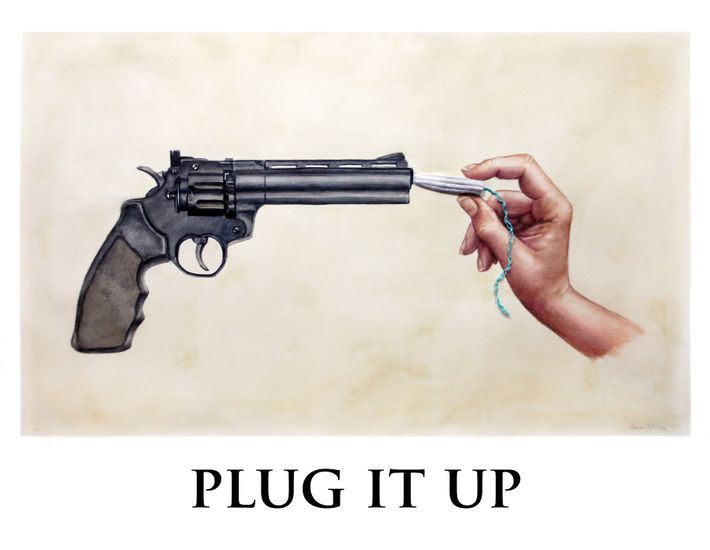 Laura Murray
I was born and raised in Oklahoma City and moved to New York City six years ago to study at the School of Visual Arts. I paid for school and rent by sketching people's portraits in Central Park. About a year after moving to New York, I was held up at gunpoint by two men in my lobby. The men grabbed me by the throat, stole my things, and left me in the lobby (luckily unharmed). Right afterward I called the cops and began sketching the face of one of the men. I supplied my sketch to the police, and they called me the next day saying they had caught the same two men mugging another woman and had used my sketch to ID them. After testifying in court, I learned that the man I sketched had previously served time in prison for raping a woman at knifepoint and had been recently escalating in the violence of his crimes. I was thinking a lot about this story while I was painting the piece that was included in Resist!. I know from experience that art has real-world practicality, both figuratively and literally. Art can be a truly effective — and peaceful — weapon of choice.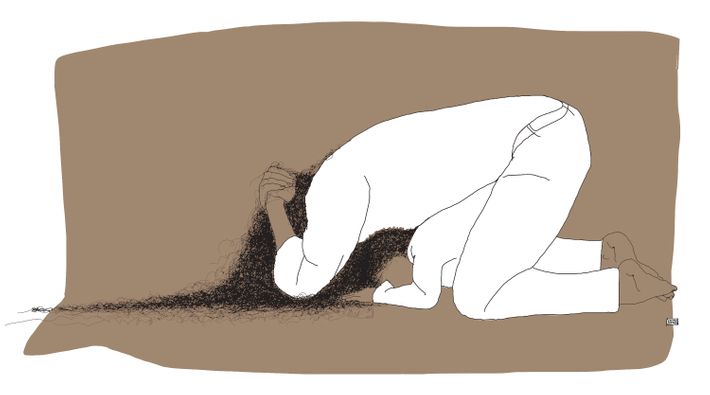 Louisa Bertman
November 9, 2016. I am speechless. A xenophobic, racist, misogynistic homophobe who defrauds students, mocks people with disabilities, calls immigrants rapists, brags about sexually violating women, and currently has countless sexual-assault charges against him "somehow" wins the most coveted seat in our government. Outrageous. Obscene. Shameful. Telling? I fall to the ground. Tears. Disbelief. Every bone in #myfeminism hurts to the core. I reach for my child. Safe? Tomorrow Still I Rise. Today, I Duck and Cover.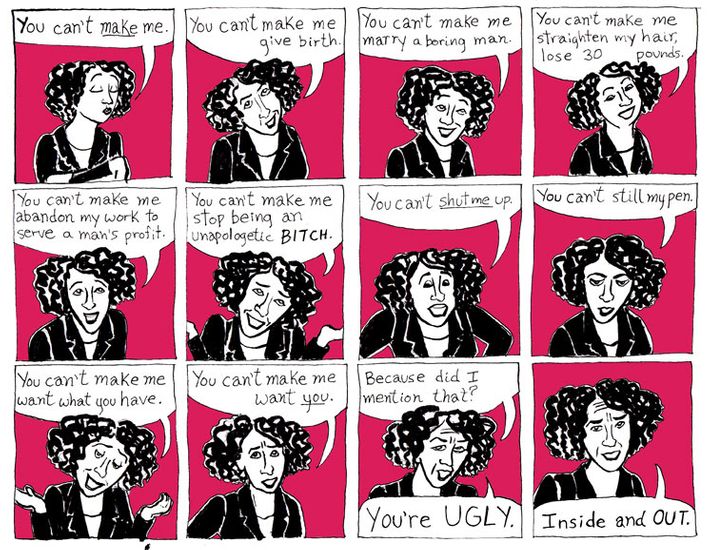 Rita Sapunor
I'm a single woman, an artist, a freelancer, and a feminist. Each of these life choices will be more difficult with Trump in office. In the days following the election, I felt under attack. I started wearing a kind of armor, what I think of as my riot grrrl uniform: black jacket, black wool skirt, Doc Martens, pops of pink and fuchsia. "Trump can't stop me from being me," I thought, and that was a comfort. That thought extended itself into a realization that gave me more strength: Trump may seek to limit my options, but nobody can make my decisions for me, or force me to live a life I don't want. In short, "you can't make me." This became a mantra that helped me shake off that heavy sense of dread. It was defiant, but playful. Its levity scoffed at the enemy's threats, a little bit like Madeline, who said "pooh-pooh" to the tiger in the zoo. When I heard about Resist!, I thought about what I'd say to Trump, given a chance. This was my simple message, delivered in high contrast and bold color. I like to imagine him reading this, gritting his teeth, and shaking his fist like a comic-book villain as the hero flees the scene, victorious and free.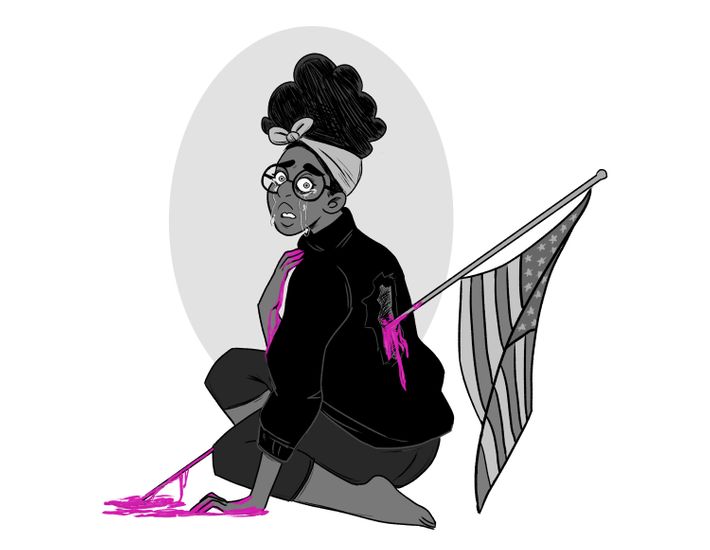 Jazmine Boatman
I drew this the day after the election. At that time, my intention for drawing my submission was originally NOT to submit it to Resist!, but to visually express the frustration and grief I felt after seeing the results of the election. I had so many emotions stirring up inside of me but at that time, what I needed to express the most, was how betrayed I felt (and still feel). As a young black woman with friends and loved ones from many different walks of life, I felt betrayed by my country for allowing such a horribly racist, sexist, homophobic, xenophobic, vile, and childish man like Trump to become the next leader of our nation. I felt betrayed by my white and/or Republican "friends" who either chose to ignore Trump's countless offenses and proceeded to vote for him or who, after the election, insisted that I was overacting by being so upset. My submission is a representation not only of how I feel, but how many others in this country feel. When people look at my submission, I want the fear, pain, and betrayal to resonate with them because it is 100 percent REAL. I also want them to notice, however, that even though I am deeply "wounded," I am still alive. Time will heal my wounds and I will persevere and resist!