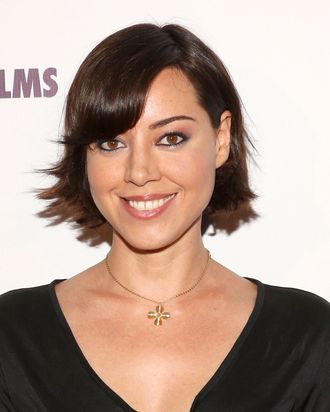 Aubrey Plaza.
Photo: Jesse Grant/Getty Images
Most people associate Aubrey Plaza with her sardonic roles in the perpetually binge-worthy Parks and Recreation or movies like Life After Beth and Mike and Dave Need Wedding Dates. But now, she's taken on the role of brand ambassador for her childhood friend Johanna Peet's new plant-based skin-care line, Peet Rivko. The Cut caught up with Plaza at The Wing in New York City for the line's launch to hear about her own no-fuss skin-care routine. Of course, she also shared some key thoughts on tea, basketball, and why you'll find crystals instead of a phone on her nightstand.
How I start my mornings: I start my mornings with a giant glass of water and a lemon, if I have one. Routine-wise, it's water, smoothie, coffee. I recently started charging my phone in another room, so I don't have that thing where I get up and I immediately check my phone, which I'm really excited about. That's my new 2017 wellness routine I have for myself. It's great for when I fall asleep and when I wake up. It might be psychological, but I actually think that not having my phone next to me on my nightstand or even in the room helps my mind calm down, and it kind of eliminates that urge to be connecting with anyone or anything. It's much more peaceful.
I just got a really cute, tiny, digital alarm clock — and it's really only a clock with an alarm function — and I have it on my nightstand. I use that to wake up if I need to set an alarm, and I don't have anything else in there, other than some crystals. I love rocks and crystals and stuff like that. I have different ones that I've gotten from places that I've traveled to. I just keep them around. I think they're healing, and I think they're nice.
Wellness, to me, is: Being conscious of what you're putting into your body and on your body, and taking care of yourself.
My skin-care routine: It's pretty simple, especially now that Peet Rivko exists. It's cleanser, moisturizer, oil. Done. If I feel like I'm super hormonal or I'm having breakouts — a lot of times, because I'm an actor, I have so much makeup on my face and people are putting makeup on my face all day, and sometimes it irritates my skin — I'll have to throw in an acne product or something like that to help me out a bit.
Peet Rivko is great for sensitive skin, but the idea is that everyone has sensitive skin. I wouldn't say my skin is overly sensitive. Johanna's skin is way more sensitive than mine. She gets irritated by a lot of different things; I can handle a lot more. But I definitely am prone to breakouts, and a lot of that has to do with the amount of water I'm drinking or the sleep I'm getting. If I'm killing it with water and sleep, my skin is loving me.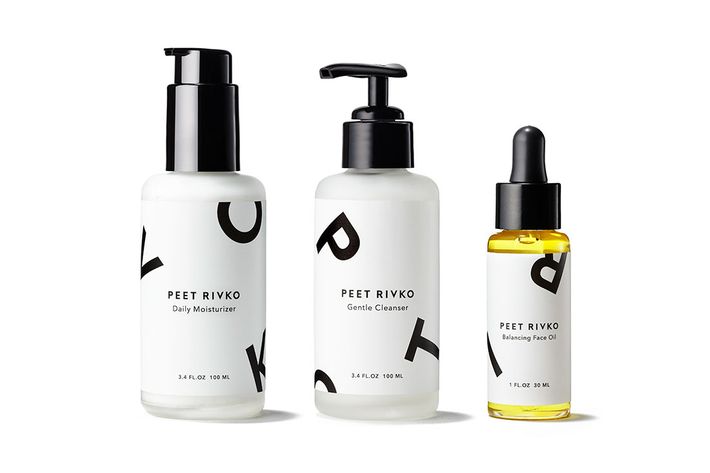 How I sweat: I am not consistent about working out at all. I was playing basketball and that was a big part of my workout routine, but I tore my ACL last year and had knee surgery, so I haven't been doing that. But I love yoga — that's probably my favorite exercise because I'm not so much into cardio. When my knee gets better I'll probably go back to basketball. I've been playing since I was a kid, and I recently joined a team in L.A. — there's a women's recreational league. My sister and I joined a team, and we play together competitively.
On tea: A big part of my on-set wellness routine involves tea. I think tea, for me, is one of the most medicinal things that I do to my body. I am obsessed with tea. It's balancing mentally and physically, so I try to have as much tea as I can all day when I'm on set and just really stay hydrated. Actors have to conserve their energy in such a very specific way. You're in your trailer waiting around, and then in a very, very rushed moment they say, Okay, we're ready for you. And you have to go from zero to 1,000. It's a tricky thing to conserve your energy, so wellness, to me on set, is all about hydration and meditation.
My favorite tea is ginger tea, because it always settles my stomach. My body just wants ginger; I don't know why, I can feel it. I think a lot of women are like that. Maybe it's a hormonal thing. But I love all herbal teas; I think they're amazing. I was in Vancouver shooting a television show for the past couple of months, and I started getting into Chinese tea. They're really into tea in Vancouver, and they have these Chinese tea shops where you can actually go and do tastings and try things that are from all over the world — even baked tea leaves. I don't know much about it, but I'm really into it, and especially into the medicinal properties of tea.
My best wellness advice: I think a lot of times people put things in their body or do things to themselves that somewhere deep inside, they know isn't really right. Coffee is a good example. I love coffee, but I know that I need to keep it regulated because it sometimes upsets my system. So when I feel that way, I switch to tea. It's that voice in my head that I have to listen to, and I think that for everyone, if people were really more aware of just listening to their body and doing things that actually feel good, then people would probably feel better in the long run.
On the Women's March on Washington: I'm going to be at Sundance, but Chelsea Handler's doing one there, so I'm going to be doing that. I thought about just waking up in a couple of years, and would I regret not being a part of that movement and participating with a group of people who are standing up for women's rights, reproductive rights, and Planned Parenthood? I think the era we're about to enter is scary, and it's important to band together and make some kind of statement.
This interview has been edited and condensed.