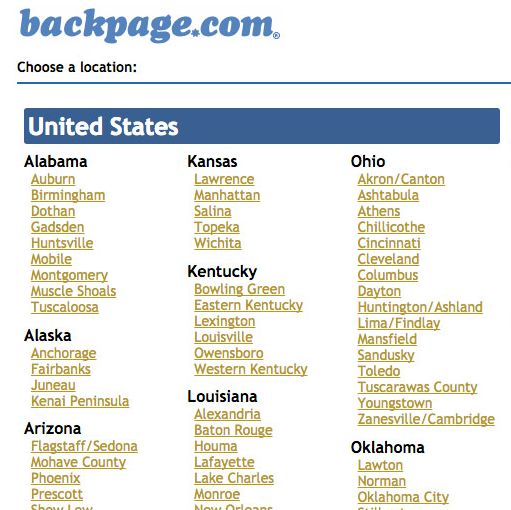 Backpage.com, a website for classified ads similar to Craigslist, shuttered its adult-ads section on Monday, the Los Angeles Times reports.
The adult ads have long been controversial, with the site's critics claiming that it facilitates sex trafficking of minors. In October, Backpage's CEO, Carl Ferrer, was arrested and charged with conspiracy and pimping a minor due to some of the site's ads (he was cleared in December). More recently, a Senate report accused the site of hiding such activity by deleting potentially incriminating terms in posts.
In a statement, Backpage said their move to take down the adult ads was motivated by "unconstitutional government censorship." They explained, "for years, the legal system protecting freedom of speech prevailed but new government tactics, including pressuring credit card companies to cease doing business with Backpage, have left the company with no other choice but to remove the content in the United States.''
Founders Michael Lacey and James Larkin, along with Ferrer, are scheduled to testify in front of a Senate Committee on Homeland Security and Governmental Affairs subcommittee on Tuesday. Senators Rob Portman (R-Ohio) and Claire McCaskill (D-Missouri) have led the investigation.

Per the L.A. Times:
The Senate committee's review of the company documents, totaling more than 1.1-million pages, found evidence that Backpage knowingly facilitated prostitution and child sex trafficking, according to the report. The business was highly profitable and experienced explosive growth, from $5.3 million in gross revenue in 2008 to $135 million in 2014.
In a statement, Portman and McCaskill said, "Backpage's response wasn't to deny what we said. It was to shut down their site. That's not 'censorship' — it's validation of our findings."
Backpage also argues that their advertisements have provided critical evidence during child sex trafficking investigations, emphasizing their cooperation with law enforcement agencies at those times.
Lois Lee, the founder and president of Children of the Night, a nonprofit that rescues children from prostitution, released a statement of her own.

''The ability to search for and track potentially exploited children on a website and have the website bend over backwards to help and cooperate with police the way Backpage did was totally unique," she said. "It not only made law enforcement's job easier, it made them much more effective at rescuing kids and convicting pimps.''