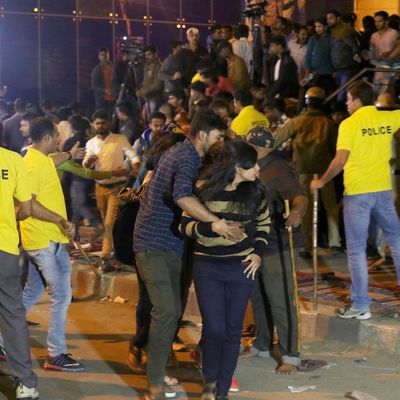 Bangalore on New Year's Eve.
Photo: STR/AFP/Getty Images
On New Year's Eve, approximately 60,000 people went out to celebrate in Bangalore's city center — but over the course of the night, several women in the crowd were reportedly sexually assaulted in what's being called a "mass molestation."
Since then, there's been an outcry over the treatment of those women — as well as over some Indian politicians' reactions to the incident.
For instance, Karnataka state's home minister, G. Parameshwara, said, "they try to copy Westerners not only in mind-set, but even the dressing … some girls are harassed, these kind of things do happen." India's National Commission for Women then called upon him to resign, though Parameshwara said his statement was "interpreted out of context."
Abu Azmi, a state leader of the Samajwadi Party, when commenting on the attacks to ANI, was more outspoken, saying, "In this modern era, more a girl exposes the more she will be called fashionable. I believe if my daughter or sister is celebrating 31st night after sunset and she doesn't have her father or husband with her and is with other men, then she can't be treated with respect."
Police, for their part, have since detained six men in relation to attacks that were caught on-camera.