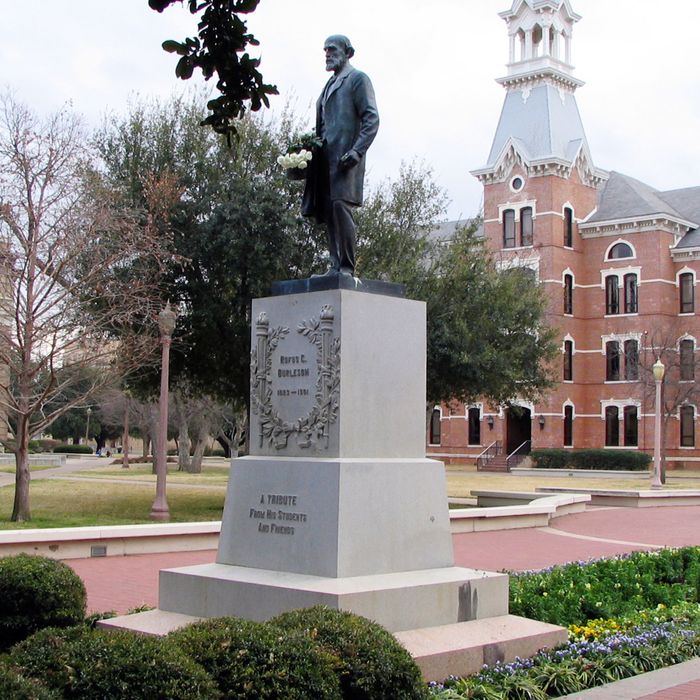 Photo: Allen Holder/Kansas City Star/MCT via Getty Images
A Baylor graduate is suing the university under Title IX after being allegedly gang-raped in 2013. The anonymous woman's lawsuit claims two football players raped her after a party on April 18, 2013. The Dallas Morning News reports that the men named in the suit, Tre'Von Armstead and Shamycheal Chatman, "were previously named as suspects in a sexual assault police report related to that date but were not charged." A student athletic trainer also accused Chatman of raping her; she was reassigned to a female team and her tuition was waived in exchange for signing an NDA.
The lawyer for the woman who filed under the name Elizabeth Doe, John Clune, stated, "As hard as the events at Baylor have been for people to hear, what went on there was much worse than has been reported." The lawsuit claims "that 31 Baylor football players committed at least 52 acts of rape, including five gang rapes, between 2011 and 2014."
The lawsuit describes a culture of sexual violence under former Baylor football coach Art Briles in which the school implemented a "show 'em a good time" policy that "used sex to sell" the football program to recruits. That included escorting underage recruits to strip clubs and arranging women to have sex with prospective players, the suit alleges.
Previously, Baylor officials reported that 17 women had reported being sexually and/or physically assaulted since 2011. Baylor settled lawsuits in November with two women who reported being gang-raped in 2012. This is part of an ongoing sexual-assault scandal that includes negligent behavior of university officials like Briles and former athletic director Ian McCaw, who both knew about at least one alleged gang rape but chose not to report it.