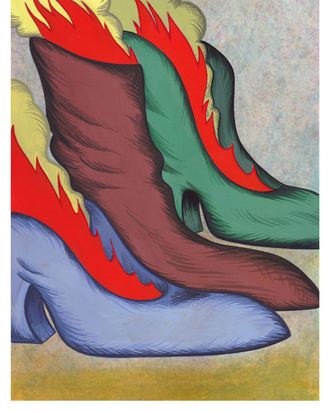 Photo: Courtesy of Knockdown Center
As you approached the entrance to the massive reclaimed warehouse that is Brooklyn's Knockdown Center, you couldn't miss them: Ten wood-framed letters, each about ten feet high, spelling out the phrase "Nasty Women." Each letter was crisscrossed with mesh, and on the mesh hung paintings and sculptures and collages and embroidery and ceramics made by women and female-identifying artists from as close as Manhattan and as far away as Hong Kong. Six hundred and twenty-two works in all, and on Thursday night they were snapped up one by one by buyers eager to support their cause — every dollar of every work sold was donated to Planned Parenthood.
Like many forms of political expression these days, the exhibition was born in a Facebook post. The day after the presidential election, Roxanne Jackson — a New York–based ceramicist and sculptor — posted a status that read, in part, "Hello female artists/curators! Let's organize a NASTY WOMEN group show!!! Who's interested???" She received dozens of responses, and she quickly teamed up with curator Jessamyn Fiore and studio manager Carolina Wheat. Just a few days later they'd finalized a logo and a website, secured a venue, and posted a call for submissions. And the work came flooding in.
When women in other cities caught wind of what was going on in New York, they wanted in. Sister exhibitions popped up across the country and then across the world; at the time of writing there are 23 confirmed "Nasty Women" exhibitions running through April in cities as far away as Brussels, Belgium, and Melbourne, Australia.
"That week there was this crazy energy just looking for a landing place," Fiore said. "We were able to capitalize on that." Jackson added, "A lot of women can relate to feeling oppressed and wanting to react."
After some deliberation, they decided to accept only work by women and female-identified artists — "That makes a powerful statement, and that's what this show is about," Fiore explained. They also decided that any artist who followed the guidelines would be accepted, and that all work had to be priced at $100 or less. If an artist didn't want to sell her work, the organizers asked that she donate to Planned Parenthood herself. No individual artist was featured in the show, and every artwork was given equal treatment. "Everything about it is very democratic," Jackson said. "And that's what we need."
Talk of politics was scant, but the face of the president-elect appeared over and over again in submitted work. One artist depicted him as a sneering woman in a blue dress and pearls. Another cut out his head and pasted it to a canvas next to a giant painted foot. A particularly memorable piece showed a cross painted in Trump's likeness with screws nailed into its wooden head. Other pieces showed his opponent, Hillary Clinton, in both favorable and unfavorable lights. Still others made no mention of politics but sought to capture the artist's mood in the days and weeks following the election. Women's faces were everywhere. Vaginas abounded.
Artist Ryan Wilde submitted part of a larger sculpture. Titled Falling Together, it showed two blackened female figures dangling from invisible thread, both contorted mid-tumble. "I have recurring nightmares about falling out of planes," Wilde said, gesturing to her submission. "[It has] to do with a loss of control … that's a feeling me and a lot of my friends have had since the election. But we're feeling it together."
Wilde made a name for herself in the field of men's hat making; she worked as the director of millinery at New York's historic J.J. Hat Center. One day, Wilde said, she got a call from Donald Trump. "He ordered Al Capone hats — big-brim fedoras," she said. "He bought five of them. He had me come to Trump Tower, and he had everybody come into his office to see how he looked in the hat[s]. It was funny then because you weren't thinking he was going to be president of the United States. He was just some douchey businessman."
"I can now say out loud without being concerned about losing my job that he looks really, really stupid in them."
Wilde said artists have an advantage where free speech is concerned: They're beholden to very few people. "They have a unique position in the world to kind of just fuck all," she said.
That attitude — "fuck all" — hints at the way the art world will respond to Trump's administration. But art, said Fiore, can go beyond fury to forge mutual understanding. "We are responsive," she said of the art world. "Art creates resistance because it creates empathy. It exposes you to new ideas and connects you to new people and new communities. That's always going to be its power."