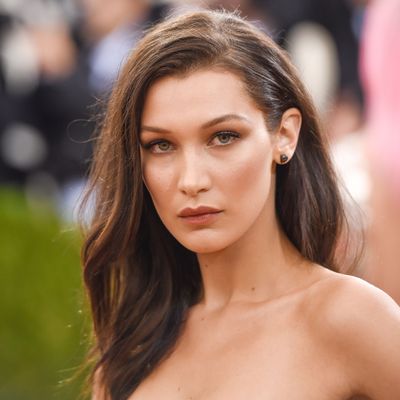 Photo: Billy Farrell/BFA.com
If you're a fan of Bella Hadid, the Weeknd, or Selena Gomez — or all three — then you're likely already well-aware of the apparent love triangle involving the trio. Or, rather, the situation that's pretty close to a love triangle. And, if you're wondering how Bella is taking the whole thing, rest assured that, yeah, she's pretty hurt about it. According to a source cited in People, the timing is what's particularly to blame.
"Bella and [The Weeknd's] split wasn't dramatic, but of course she's hurt and pissed that he's moved on so quickly with Selena," the source told People. While Bella and the Weeknd broke things off in November (and, per the source, it was Bella who pulled the plug), the two reportedly kept things friendly. So it makes sense that it particularly stung for Bella to see photos of Selena living out the lyrics "Can't Keep My Hands to Myself" with the Weeknd. In fact, another source told E! News last week that Bella still loves the R&B artist, and that "she is bitter about the romance with Selena." (And who can blame the woman?)

Bella and Selena also apparently never had the kind of friendship that might have set the stage for a violation of the Girl Code. Other sources tell People that the two knew each other via Taylor Swift's notorious "squad," but "they've never been close." Guess the only awkward situation here is for Taylor? Or perhaps Gigi, Bella's sister, who is close friends with Taylor, who is also close friends with Selena? (This is what happens when you have a squad!) For clues, we'll keep our eyes peeled for passive-aggressive Instagram photos or sub-tweets.