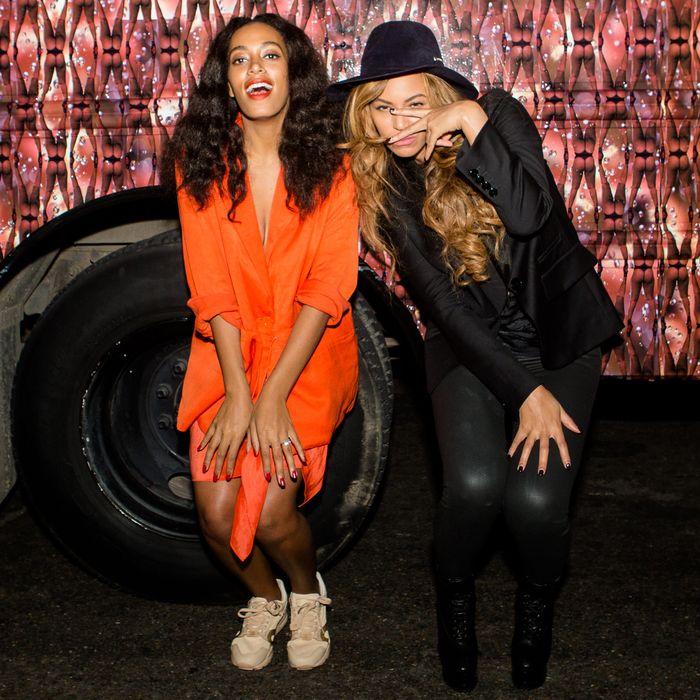 Beyoncé and Solange.
Photo: 2014 Josh Brasted
It's been five months since Beyoncé concluded her Formation World Tour and, boy, does she hate to sit idle. Maybe that's why she recorded a new version of "Daddy Lessons" with the Dixie Chicks, signed on to headline this spring's Coachella, and, oh yeah, interviewed Solange for the February issue of Interview.
In the issue that Solange covers, the sisters discussed "womanism, growing up in a hair salon, and choosing between [Selena's] 'I could fall in love' and 'No Me Queda Mas,' Solange wrote on Instagram.
Below are a few excepts from the interview, which is now live.
Solange on her musical inspirations:
Growing up in a household with a master class such as yourself definitely didn't hurt. And, as far back as I can remember, our mother always taught us to be in control of our voice and our bodies and our work, and she showed us that through her example. If she conjured up an idea, there was not one element of that idea that she was not going to have her hand in. She was not going to hand that over to someone. And I think it's been an interesting thing to navigate, especially watching you do the same in all aspects of your work: Society labels that a control freak, an obsessive woman, or someone who has an inability to trust her team or to empower other people to do the work, which is completely untrue.
On the meaning of "Cranes in the Sky":
I was just coming out of my relationship with Julez's father. We were junior high school sweethearts, and so much of your identity in junior high is built on who you're with. You see the world through the lens of how you identify and have been identified at that time. So I really had to take a look at myself, outside of being a mother and a wife, and internalize all of these emotions that I had been feeling through that transition. I was working through a lot of challenges at every angle of my life, and a lot of self-doubt, a lot of pity-partying. And I think every woman in her twenties has been there—where it feels like no matter what you are doing to fight through the thing that is holding you back, nothing can fill that void. I used to write and record a lot in Miami during that time, when there was a real estate boom in America, and developers were developing all of this new property. There was a new condo going up every ten feet. You recorded a lot there as well, and I think we experienced Miami as a place of refuge and peace. We weren't out there wilin' out and partying. I remember looking up and seeing all of these cranes in the sky. They were so heavy and such an eyesore, and not what I identified with peace and refuge. I remember thinking of it as an analogy for my transition—this idea of building up, up, up that was going on in our country at the time, all of this excessive building, and not really dealing with what was in front of us. And we all know how that ended. That crashed and burned. It was a catastrophe. And that line came to me because it felt so indicative of what was going on in my life as well.
On women relating to her album:
The biggest reward that I could ever get is seeing women, especially black women, talk about what this album has done, the solace it has given them.
On the hair clips in her cover art:
When Neal, the hair stylist, put the clips in, I remember thinking, "Woah, this is the transition, in the same way that I'm speaking about on 'Cranes.'" It was really important to capture that transition, to show the vulnerability and the imperfection of the transition—those clips signify just that, you know? Holding it down until you can get to the other side.
On controlling her voice within A Seat at the Table:
It was very intentional that I sang as a woman who was very in control, a woman who could have this conversation without yelling and screaming, because I still often feel that when black women try to have these conversations, we are not portrayed as in control, emotionally intact women, capable of having the hard conversations without losing that control … I wanted to find a happy medium, feeling like I was being direct and clear, but also knowing that this was a conversation that I was very much in control of—able to have that moment, to exist in it, to live in it and ponder it, not to yell and scream and fight my way through it—I was doing enough of that in my life, so I wanted to make a clear distinction of me controlling that narrative.
On Real Housewives:
I was just having a conversation with someone about The Real Housewives of Atlanta, and I was saying how I love that show and think it's so brilliant because it's the woman that was represented in my childhood in Houston. It makes me feel so at home.
On being a strong woman:
I remember Björk saying that she felt like, no matter what stage in her career, if a man is credited on something that she's done, he's going to get the credit for it. And, unfortunately, that still rings true. It's something I've learned so much about from you, getting to be in control of your own narrative.
On having Beyoncé as a sister:
You did a kickass job. You were the most patient, loving, wonderful sister ever. In the 30 years that we've been together, I think we've only really, like, butted heads … we can count on one hand.
This post has been updated.