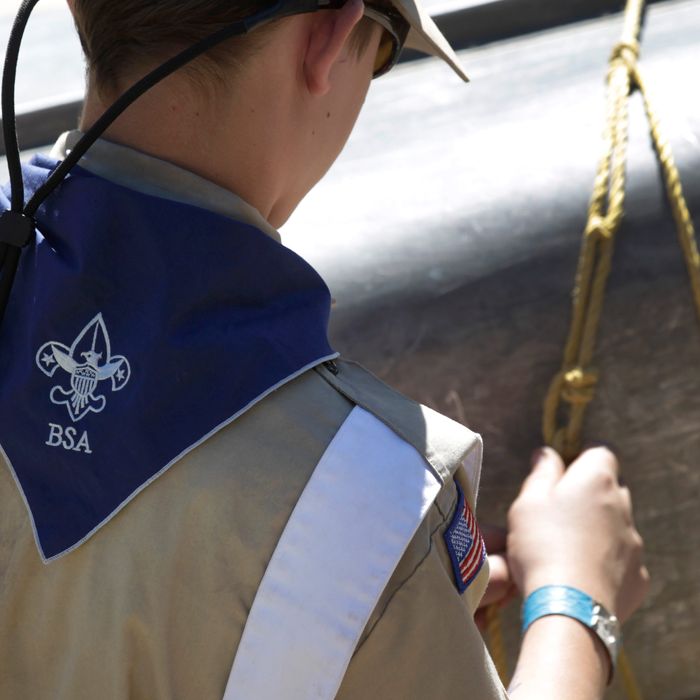 Boy Scouts of America.
Photo: George Frey/Getty Images
On Monday night, the Boy Scouts of America announced it would start allowing transgender children who identify as boys on their membership applications to enroll in its programs. Until now, the group had a century-long policy of accepting children into its boys-only programs based on the gender listed on their birth certificates.
As the Associated Press reports, the decision came as leaders considered a recent New Jersey case in which an 8-year-old transgender child was asked to leave the group when both parents and his troop leaders found out he was transgender. The organization said in a statement that it offers a number of programs that serve all youth, but that its Cub Scout and Boy Scout programs had been "specifically designed" for boys.
"For more than 100 years, the Boy Scouts of America, along with schools, youth sports and other youth organizations, have ultimately deferred to the information on an individual's birth certificate to determine eligibility for our single-gender programs," the statement said. "However, that approach is no longer sufficient as communities and state laws are interpreting gender identity differently, and these laws vary widely from state to state."
Michael Surbaugh, the Scouts' chief executive, said in a video statement that the decision was made "after weeks of significant conversations" at all levels of the organization. "Communities and state laws are now interpreting gender differently than society did in the past. These new laws vary widely from state-to-state. Starting today, we will accept registration in our scouting programs based on the gender identity provided on the individual's application."