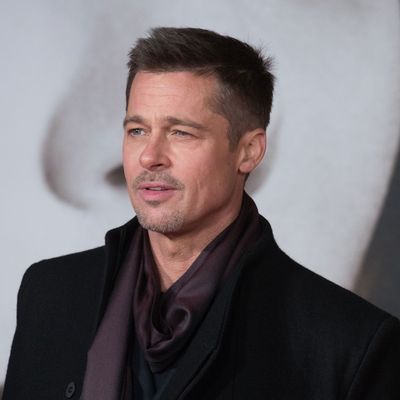 Brad Pitt.
Photo: Luca Teuchmann/Getty Images
It's perhaps safe to say that 2016 was not a good year for Brad Pitt. At least, not in the personal realm, as he's been involved in ongoing divorce proceedings and an unpleasant custody battle with his ex, Angelina Jolie. The subject of who gets custody and what kind of visitation rights the other receives has been closely monitored in the press and Jolie has been pushing for Pitt to have supervised visits with their kids only. And now that the holidays are over, we have a glimpse into just how limited those visits might be. Pitt, it turns out, had only one short and supervised visit with his children, sources told "Page Six."

The news comes after Jolie agreed with Pitt to seal the court documents pertaining to their custody battle. But, as "Page Six" notes, that didn't occur until after Jolie's team threw out a more ominous possible reason for Pitt wanting to keep things out of the public. As in, Pitt's supposedly fearful and, "terrified that the public will learn the truth" following his investigations by Child Services and the FBI (he was cleared of any wrongdoing). Meanwhile, Pitt has claimed that Jolie has put their children at risk by putting out information in public. Notwithstanding future leaks or unnamed "sources," there's a real possibility the details are kept mum from here on out after each actor has tried gaining the upper hand in the legal and public court of opinion.