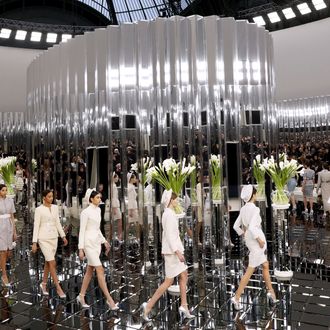 Chanel couture spring 2017
Photo: PATRICK KOVARIK/AFP/Getty Images
Leave it to Karl Lagerfeld to come up with an impressive set time and time again. From the Chanel Data Center to the Hotel Ritz, a faux atelier, art gallery, and carousel, Lagerfeld always manages to transform the Grand Palais into uncharted territory, and today's Chanel couture show was no different. Lagerfeld opted for a hall-of-mirrors set that, in his typical fashion, functioned on a number of levels: a play on the narcissism and self-regard (and rare self-reflection) of the industry, a great Insta-opportunity, and a call-out to the house's history, since Coco Chanel had a similar mirrored stairway in her studio. The show, too, was filled with plenty of sparkle and flash, from the silver heels to sparkle-encrusted gowns.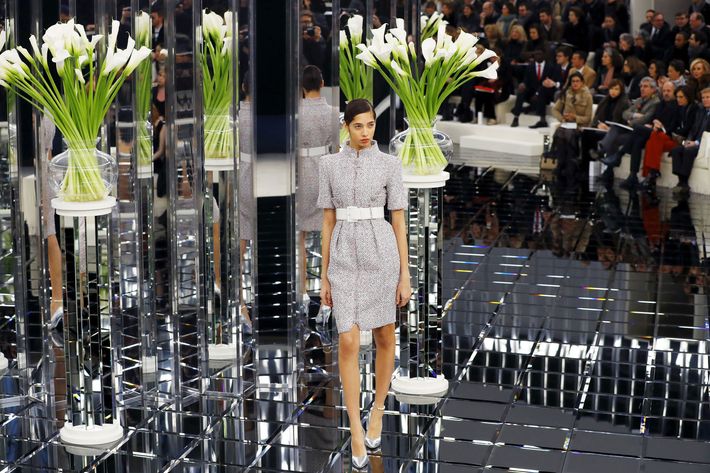 Lagerfeld showed prim, retro skirt suits — one of which, with its pink hue and pillbox hat, clearly evoked Jackie Kennedy — and '30s gowns dripping with sparkle and marabou, the kind of thing a TCM starlet would swan around in. Almost every look was cinched with a belt, and accessorized with a pearl anklet worn on the left leg. (Karl loves an ankle accessory — remember his take on the LiLo alcohol-monitoring anklets way back when?)

Naturally, given Lagerfeld's affection for Instagirls, there was a Hadid (Bella), a Jenner (Kendall), and a Depp (Lily-Rose, who closed the show as the couture "bride" in sweeping, ruffled pink).