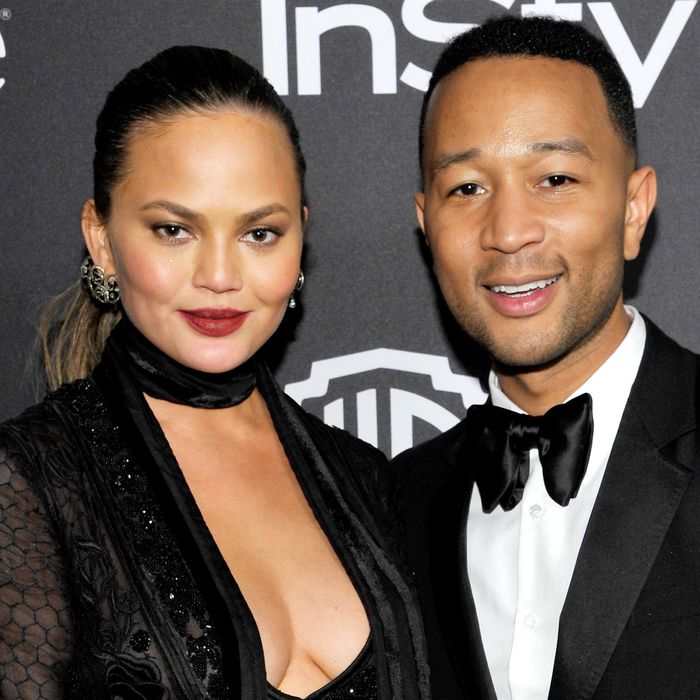 Chrissy Teigen and John Legend want more kids in the future.
Photo: John Sciulli/Getty Images for InStyle
To be clear: Chrissy Teigen is not pregnant. She is, however, certain that her next baby with John Legend is going to be a boy. But why the level of certainty? As it turns out, that's the sex of a frozen embryo that the two have saved for a future pregnancy.

Teigen first started announcing as much over the weekend while walking the red carpet for the Screen Actors Guild Awards, telling ET and Extra that a baby boy is next for the couple, who are already proud parents to 9-month-old baby Luna. Still, the precision with which Teigen announced the sex of her future baby — instead of merely saying she hoped for a boy — set off some questions among fans.

So on Monday, Teigen cleared up the matter on Twitter:

Teigen has been vocal in the past about her and Legend's experience with IVF after trouble conceiving. But apparently one Twitter user missed the memo about that — as well as the one about common decency — and unceremoniously jumped into Teigen's mentions to critique her decision. Teigen, of course, didn't hesitate to shut it down.

Just like that.