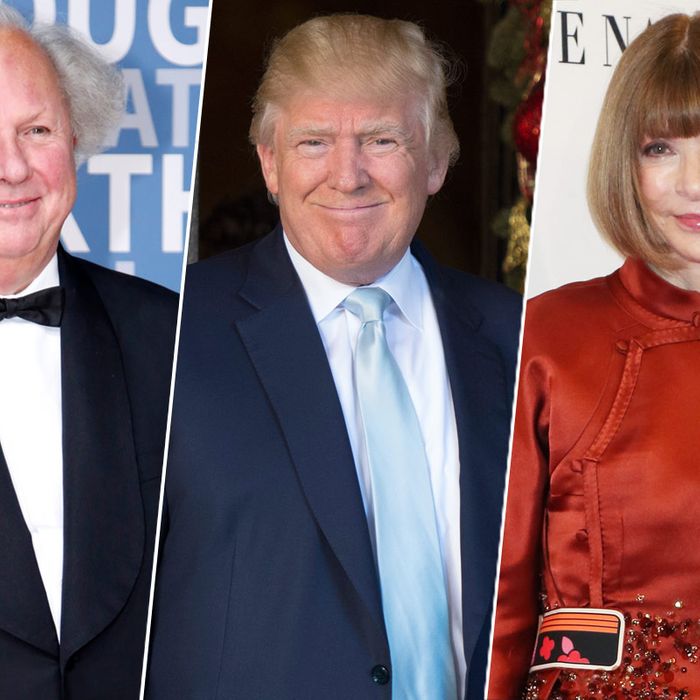 Graydon Carter, Donald Trump, and Anna Wintour.
Photo: Getty Images
On Friday morning, President-elect Donald Trump visited Condé Nast's headquarters at One World Trade Center for an off-the-record meeting with several top editors, including Anna Wintour, Graydon Carter, and David Remnick. And some of the media company's staffers were reportedly not happy about it.
While some posted photos of the building's extra security with the hashtag "#notmypresident" on social media, others, WWD reports, decided to wear white:
Wearing white is a nod to the Suffragette movement, and was also a veiled reference to the campaign of Trump's presidential rival Hillary Clinton, who donned a white pantsuit when she clinched the Democratic nomination this summer.

The subtle "fashion protest," as it was called by sources, was also a protest against the "olive branch" that was extended to Trump by Condé Nast higher-ups following a candidacy that was denounced by many of the company's editors in their own magazines — especially artistic director Anna Wintour. A source offered that wearing white means that they "won't accept his way of thinking as the new normal."

As for the actual content of the meeting, Politico reports that Trump fielded questions on "everything from abortion to Russia," with their anonymous source adding that it "wasn't personal."
Also per WWD, Hearst would not like to be left out from the press meetings, with vice-president of marketing communications Paul Luthringer saying "we welcome the president-elect now or after Jan. 20" and "Mr. Trump has been to Hearst Tower before while taping past episodes of 'The Apprentice.'" Don't worry Hearst, I'm sure things are just really busy at work right now and that's why he stopped texting.