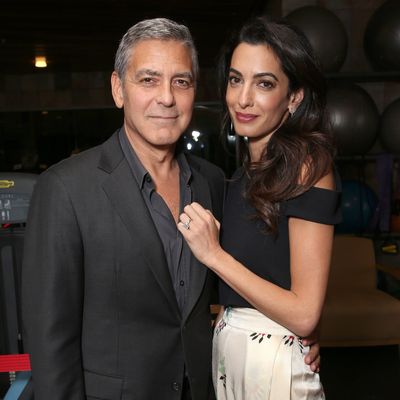 George and Amal Clooney.
Photo: Todd Williamson/Getty Images for MPTF
Here is the first wild celebrity rumor of the year that could turn out to be true: Lebanon's Daily Star reports that George and Amal Clooney are expecting twins. Before today, I had never heard of Lebanon's Daily Star, but our most trusted gossip decoder Lainey Lui thinks the source could be trustworthy on this particular issue. "The story might be worth considering and not dismissing immediately," she wrote this morning. "We're not hearing about it from the Daily Mail, or a British paper. It's not coming from the Enquirer or Star Magazine. These are, supposedly, 'family sources' talking to a Lebanese publication."
The Daily Star cites a "family friend" who claims Amal is pregnant. Of course, pregnancy rumors have followed George and Amal since they got married two years ago in Venice, but this time — this time! — they might stick. Lui notes that the couple has not been spotted by the paparazzi in recent months: "Didn't see them on holiday with Cindy Crawford and Rande Gerber. No sightings in Cabo. No dinners in Malibu." So they could be nesting privately in the U.K.
The only thing left to wonder about is what the Clooneys might name the babies. George's friend Julia Roberts already took "Phinnaeus" and "Hazel" for her twins back in 2004.