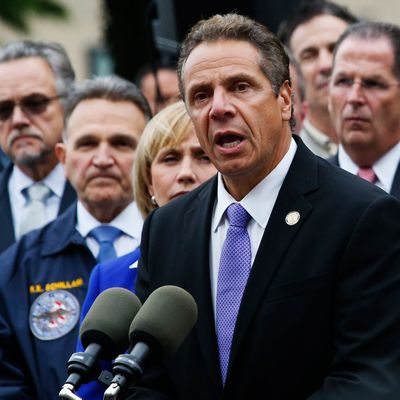 New York governor Andrew Cuomo wants to protect abortion access.
Photo: Getty Images
There was a time, not so long ago, when experts urged the public not to take Donald Trump literally. That time has passed — indeed, Trump has spent the first weeks of his presidency signing executive actions that will in theory implement many of his campaign promises. And although it's still unclear whether Trump's administration will seek to overturn Roe v. Wade (that was a Pence promise, after all), New York governor Andrew Cuomo isn't taking any chances.
At a rally hosted by Family Planning Advocates (which lobbies for Planned Parenthood) on Monday, Cuomo announced he'd propose an amendment to include Roe v. Wade in the New York State constitution. "As Washington seeks to limit women's rights, we seek to protect them," he said in a speech to the crowd. "We will not allow the progress of the women's movement to be stopped, and we must seize this opportunity to bring the state and the nation forward and stand up for women's health."
Abortions became legal in New York beginning in 1970 — three years before Roe v. Wade was made law. And as of September, doctors in the state can legally perform abortions after 24 weeks of gestation to save the mother's life, if her health is at risk, or if the fetus becomes unviable. In other words, if the amendment passes, not much will change for New Yorkers. The point is to ensure that, even if Roe v. Wade is overturned, they'll still be able to legally get an abortion in the state.
To pass, the amendment would have to make it through the Senate, which put the brakes on an earlier proposal to update the state's abortion law because members argued it would "increase abortions." And according to the New York Daily News, the earliest it could be put before voters — who would have the final say — is 2019.