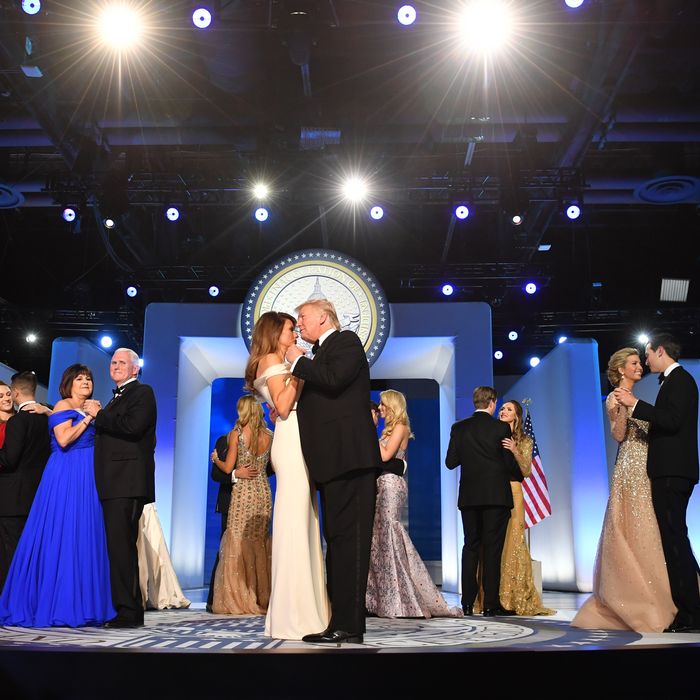 The Freedom Ball.
Photo: Pool/Getty Images
Last week, as it became exceedingly clear that pretty much nobody wanted to attend his inauguration, Donald Trump turned around and boasted to the New York Times about how popular the event would be.

"We are going to have an unbelievable, perhaps record-setting turnout for the inauguration, and there will be plenty of movie and entertainment stars," Mr. Trump said. "All the dress shops are sold out in Washington. It's hard to find a great dress for this inauguration." 
The dress shop claim was easily fact-checked and almost immediately refuted — Racked contacted several stores that sell formal wear in the area and found that there was nothing near a dress shortage.
Now, nearly a week out from the inauguration, Gilda Mizrahi, who owns the boutique Signature Dresses in Georgetown, tells the Washington Post that she's actually holding a sale because she has such a surplus of dresses leftover from the inauguration.
Mizrahi says she ordered 200 extra dresses in anticipation of the event and found "more than half are still here" — hence the 30 percent off sale. "I don't want to get political," she explained. "I have many customers. But I just didn't see the level of excitement that I have."
Say no more, Gilda.