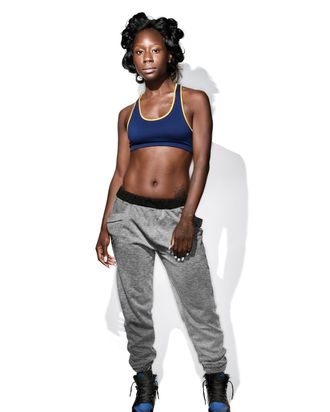 "My friends and I storm as a squad."
Photo: Bobby Doherty/New York Magazine
Sáde Shakur, Dancer, Model, Airline Agent
Where are you coming from?
My dancing-in-heels class with Danielle Polanco at Peridance Capezio Center. I'm actually flying out to L.A. in a few weeks because Beyoncé's having an open audition for dancers. I can fly anywhere in the U.S. for free because I work as a Delta agent twice a week.
That's a good deal!
Yeah, and I live for free in my aunt's brownstone in exchange for helping out with her Airbnb. I like to say that I'm the come-up queen. But I'm trying to figure out what's next for me. I've been dancing, modeling, and I have 30,000 Tumblr followers. I'm torn. People say I should be a stylist. I've got style that people look toward. It's refined but pushy. I have no problem going to eBay and finding an item that's been lost in the sauce — like these vintage sunglasses similar to the ones Aaliyah once wore in a photo shoot that I just bought for $378. They were broken, but I got them fixed. But I've also been thinking about making YouTube beauty tutorials because my skin is pretty fleeky.
What's your secret?
Lush's Ocean Salt scrub, drinking a lot of water, and happiness.
Lightning Round
Age: 26.
Neighborhood: Harlem.
Favorite TV shows: The Office, Bob's Burgers, and Parks and Recreation.
New Year's resolution: "No more fried foods."
Favorite place to party: "Wherever my friend Gitoo tells us to go. My friends and I storm as a squad. I'm getting older, so I'm not going to go to just any warehouse party."
*This article appears in the January 9, 2017, issue of New York Magazine.