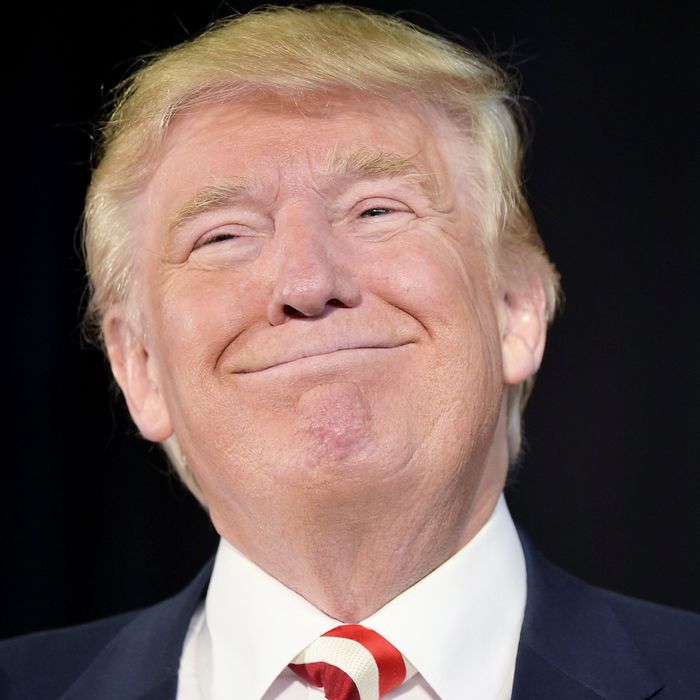 Photo: MANDEL NGAN/AFP/Getty Images
Former Miss Hungary Kata Sarka told talk-show host Kasza Tibor, whose show looks similar in format to Carpool Karaoke, that Donald Trump hit on her at a pageant after-party in 2013. This was on one of Trump's trips to Russia during which he may or may not have paid sex workers to urinate on a bed where President Barack Obama and First Lady Michelle Obama had once slept, according to an unverified dossier that was recently leaked.
"We were in Russia, at the final [sic] for the Miss Universe [pageant] and then a man approached me and grabbed my hand, drew me to himself, and asked 'Who are you?' He asked in English and I was so embarrassed, I will tell you shortly who he is, I was so embarrassed that I couldn't say anything else but 'Hungary!'"
Sarka added, "And then he said, 'And why are you here?'And he gave me his business card with his private number and told me in which hotel and which room he is staying in. And his name is Donald Trump." Apparently, Sarka provided a Hungarian tabloid named Blikk with a photo of the American Psycho–style business card, but she never followed up on the offer.
"He's not my type," she told the tabloid.