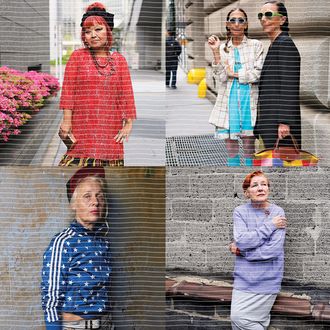 A series investigating the effects of gravity on the female form.
I hate articles about dressing your age. The whole notion that there are ­particular pieces of clothing that every woman should give up upon reaching a certain birthday is preposterous: "Aging out" of certain items happens, it's true, but not on any predictable timetable. It's different for everyone. I had a nice long run with short hemlines — and then, when I was around 46, I put on a favorite Isabel Marant black floral minidress and I knew the jig was up. It just looked totally wrong on me. Like a grown woman playing dress-up.
My friend Andrea Linett, author of The Cool Factor: A Guide to Achieving Effortless Style, With Secrets From the Woman Who Have It, believes in listening to your "internal radar." Mine has yet to tell me that leather jeans aren't part of the program, but at 52, I'm aware that day may be coming soon. Which is a drag.
But mostly, getting older has only made me more chic. Knowing what looks good on you is very nearly impossible when you're young and obsessed with hitting all the trends. I can ­honestly say that now, on many days, the best part of my outfit evolved from some manner of stomach-pooch camouflage. A woman with a sample-size body can always look good, but I like to see a woman who's worked with what she's got to produce a compelling solution.
When I was in my mid-30s, I became the ­editor of a fashion magazine — and was given a generous clothing allowance, which I spent at Gucci and Prada and Yves Saint Laurent and all the places I thought an editor-in-chief ought to be spending her clothing allowance. I was a chain-smoking stress case, skinny, and — though I didn't recognize it then — I looked good in everything. I also had no discernible sense of style. I dressed the way I thought I should, anxious to fit in at lunches with advertisers and in the front row at fashion shows.
As I aged into the job, I relaxed a little, and by the time I was fired a decade later (well into my 40s), I had a closet full of Zero + Maria Cornejo, A Détacher, and Dries Van Noten — designers who don't pay attention to trends, who cut to flatter a woman's body, and who are architecturally interesting. I was growing more comfortable in my skin, and a change had happened ­sartorially as well.
This attitude — of no longer having so many fucks to give when it comes to getting dressed — grows pervasive as we age. A couple of years ago — and despite my intense dislike for articles on the topic — I asked the readers of my blog, Girls of a Certain Age, their thoughts on the topic of "dressing your age." The comment thread that ensued was epic, and several strong themes emerged, the clearest of which was that the women who read my blog have no interest in being dictated to. But they had all had made changes in how they dress, growing less tolerant of anything that was physically uncomfortable, overly fussy, or too girly. Others stressed what they'd never give up: skinny jeans, Converse sneakers, denim jackets. One reader posted, "For me, the question is not what I'll never give up, but what I still hope to grow into," and I love this, because style is an ever-evolving thing, and age is just an interesting challenge that gets thrown into the mix.
The novelist Emma Straub told me that she has found the change that age has brought to be a welcome one: "For me, dressing my age has come to mean ignoring what's popular and actually understanding what suits my body. I no longer care what size something is. If it fits, it fits." You could even argue that it is not until you have to start dressing to deal with the ways in which your body is changing that you begin to develop real style.
Today, I think I'm more stylish than I've ever been, even back in those clothing-­allowance days. Mostly I feel like the question of "dressing your age" means being comfortable with yourself. I know that in some ways, I'm still pushing the envelope. Like with the leather jeans. Or my beloved Clash concert T-shirt, or my gray suede Vans. But it's all about context: The concert tee only gets worn under blazers; the Vans are for kicking around on weekends. I trust my internal radar. A decade and a half ago, I was walking around in costume. My only real regret is that I didn't learn to dress my age when I was younger.