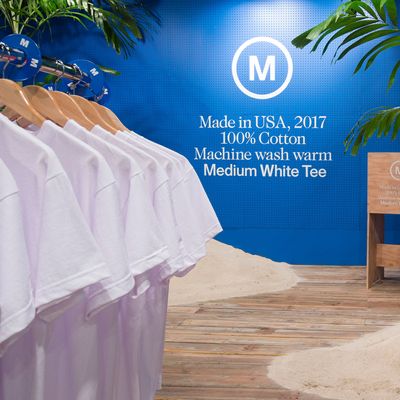 The Medium White T pop-up.
Photo: Shuzo Uemoto/Honolulu Museum of Art
This summer, a widely circulated New York Times article revealed President Obama's ascetic late-night diet: exactly seven almonds, lightly salted. While that was the tidbit that got the most pickup, Rahm Emanuel also revealed Obama's fashion-biz ambitions in the story, saying that he and the president dreamed of "moving to Hawaii to open a T-shirt shack that sold only one size (medium) and one color (white). Their dream was that they would no longer have to make decisions."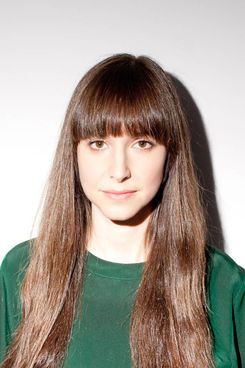 Emily Spivack, an artist and writer who is the editor of the anthology Worn Stories, took that as a challenge. "I loved the fact of what the white T-shirt represented to him," she says. "The concept is so universal. It's not like he was saying, 'I want to open a high-end bespoke-suit company,' or something like that."
Spivack was inspired to open a monthlong pop-up in Honolulu called Medium White Tee that only sells medium-sized white T-shirts. She calls the installation "an opportunity [for visitors] to reflect on all the decisions that you're constantly confronted with." The Honolulu Museum of Art has designated the project an off-site installation.
Spivack came up with the concept before Election Day, so she doesn't intend the project as a riposte to Trump in any way. Still, she says she hopes the project is a reminder that "the decisions of a president should be taken seriously. They should be taken as seriously as [Obama] took the decisions he made while in office."
Each shirt costs $44, in a nod to Obama's place in history as the 44th president. They were provided by New York–based brand Print All Over Me, and the logos were printed in Hawaii. Half the inventory will be sold at the pop-up, and the other half online, and the proceeds will go to local organizations Ma'o Organic Farms and the Bus Federation Civic Fund, a youth-voting effort.

The store's opening Wednesday night was hosted by Maya Soetoro-Ng, the President's half-sister. She gifted shirt number one of the limited-edition run of 1,000 to Obama for the holidays. In Spivack's note accompanying the gift, she wrote to him: "Your T-shirt shack will be staffed by volunteers until you show up for your shift."