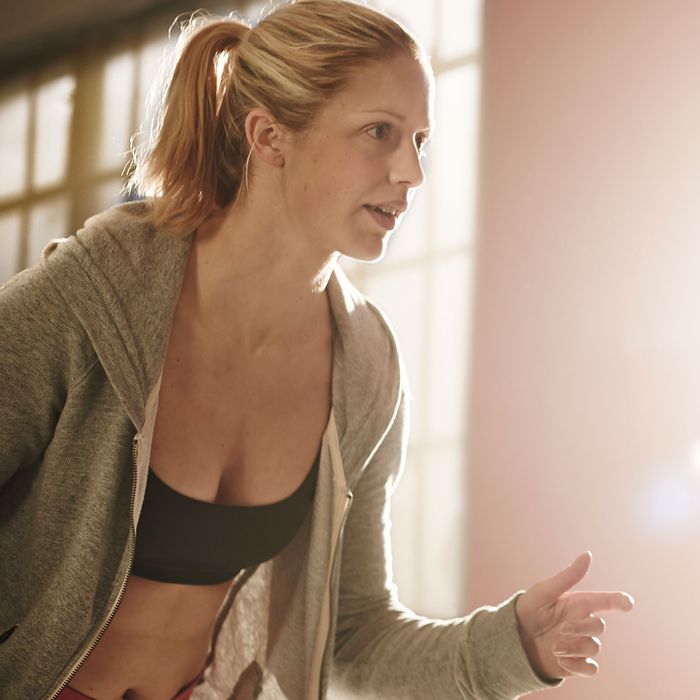 Photo: Mike Harrington/Getty Images
Visit the Equinox homepage right now and you'll find bare-chested artist and cancer survivor Samantha Paige, proudly displaying her double-mastectomy scars as part of the luxury gym chain's New Year marketing campaign, "Commit to Something." Last year an ad featured Lydia Hearst, also topless, breastfeeding twins in a bougie restaurant. The reminder: Equinox is more than racks of barbells and eucalyptus-scented towels. They care about the important stuff. They're committed to a whole, healthy, empowered life.
Except — maybe not if you work there. On January 1, the company's health-insurance offerings changed, leaving the majority of its personal trainers without comprehensive medical coverage. Back in 2016, a personal trainer had to work 22 hours a week to gain access to a solid health-care plan that covered doctor and specialist visits, prescription drugs, hospital stays, substance-abuse treatment — the good stuff. Starting in 2017, trainers have to work at least 30 hours a week to take advantage of a similar full-coverage plan. Everyone else (considered part-time) is left with a limited, basic plan that doesn't include much more than a few doctor's visits each year. It covers preventive care (your flu shot, a pap) and hospitalization for non-elective care (meaning a trip to the ER if you need some immediate assistance to stay alive). It's not a plan your parents would approve.
According to the company, the changes are a reflection of Obamacare: "Under the Affordable Care Act, Equinox can only legally offer our trainers under the 30-hour threshold our part-time plans. We had to make a change to our practice otherwise we would have been in violation of ACA regulations," said a spokesperson for Equinox. (Equinox made no comment as to how their policies might change if Obamacare is repealed.) It's not illegal to offer good benefits to part-time employees — that would be ridiculous. But if Equinox offered a comprehensive plan to part-time trainers, the ACA would require that they hit a bunch of benchmarks (things like no lifetime or annual limits, maternity benefits) or they'd incur huge penalties. Equinox likely doesn't want to pay for all their part-time employees to have an ACA-approved full-coverage plan, says Allison Hoffman, a professor of law at UCLA and expert on health-care law and policy. They're choosing the cost of doing business over the health of their employees, but it's legal.
Here's the problem: Even the most in-demand and devoted trainers struggle to bank 30 hours a week. (Equinox says 25 percent of its trainers hit the mark, but the personal trainers we spoke with said that number's inflated and only a handful at each club qualify.) Leia DeSousa, a personal trainer and nutrition coach at Equinox's bustling Greenwich Avenue location, manages up to 22 clients at a time and still can't reach 30 hours because of the irregularity of the job. "It's feast or famine — the clientele that can afford personal training are also the ones that go on vacation and spend long weekends in the Hamptons," she says. There are last-minute cancellations and clients that fall off the map. Hours of unpaid planning and programming go into the gig. A company spokesperson said that trainers can make up those hours by attending company forums, meetings, and workshops, but the trainers say the math is still unrealistic.
DeSousa was dropped from the health-care plan under the new rules and now pays over $500 out of pocket for benefits comparable to what she had last year. Veteran personal trainer Jared Glenn, who has a child with a cognitive disorder, is now forking over $1,640 a month for an outside plan. He's working as a bouncer at night and taking other side jobs to cover the bill. "Some trainers are picking up minimum-wage shifts cleaning the gym or folding towels to hit those 30 hours, but don't forget you're getting up at 4:30 a.m. to get to a client, and you're meeting someone else at 6 p.m. At some point you have to eat and sleep," says DeSousa.
For trainers with pregnancy or family on the mind, the new hourly requirements add up to an almost impossible scramble. Tiffany Boucher, a personal trainer who has been with the company for 11 years, had a baby using Equinox's insurance last year but was dropped after cutting back her hours. She jumped onto her husband's plan but says most of her female colleagues aren't as fortunate. "I have friends who are pregnant or want to get pregnant and don't know what to do — somehow they've got to find a plan that'll cover labor and delivery."
One female trainer (who asked not to be named) suffered a stress fracture while training for a company event and found herself hobbling on crutches for three months up and down the four stories of her club so she could still collect insurance and pay her medical bills. "I wasn't supposed to be walking at all, let alone offering personal training to clients. It all became too much and I had to leave." She's now taking Equinox to a small-claims court for never getting paid for her medical leave of absence.
Glenn, who spoke out against the new health-care rules in a Bloomberg story earlier this month, said more than a hundred trainers across the company have since reached out to him with similar grievances. "There's a woman with breast cancer who is experiencing delays in treatment, someone who got dropped after she took time off to bury her dad, people who need surgery for injuries. It's not in line with what this company says they stand for."
Equinox is hardly the only fitness club in the city that's left its trainers — the true revenue generators in the gym biz — without respectable health benefits. But they also don't bill themselves as a peer of places like Crunch or NYSC. (At high-end studios like SoulCycle and Flywheel, full-time trainers who teach 12 classes or more a week receive full health benefits. At studios like SLT, where instructors are considered contractors and free to teach elsewhere, insurance typically isn't offered.) They're the "temple of well-being" — an engaged, foreword-thinking club where you can expect more. Trainers like Glenn and DeSousa are now waiting to see if they'll extend that commitment to their staff.