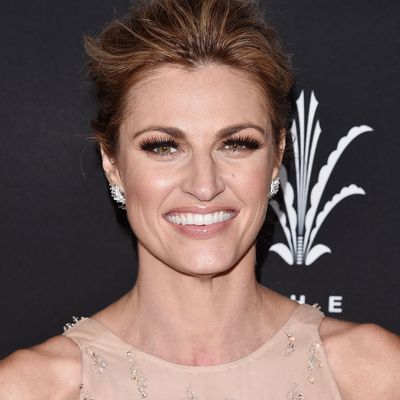 Erin Andrews.
Photo: Alberto E. Rodriguez/Getty Images
Last summer, just months after Erin Andrews was awarded $55 million in a suit over a nude video filmed by a stalker through a peephole in her hotel-room door, the former ESPN sportscaster and current Fox College Sports host secretly endured another trauma: She was diagnosed with cervical cancer and underwent surgery.
In a new interview with Sports Illustrated's The MMQB, Andrews revealed she was diagnosed with cervical cancer in October while covering the NFL and appearing on Dancing With the Stars. After hearing the news, she kept the diagnosis a secret, covered a football game that Sunday, and then flew home to Los Angeles that Monday for her October 11 surgery. She missed two days of Dancing filming, but by and large, Andrews refused to let the cancer sideline her. Two days after surgery, she was already back on a flight from L.A. to Green Bay to cover a football game.
Per MMQB:
"Should I have been standing for a full game five days after surgery? Let's just say the doctor didn't recommend that," Andrews says. "But just as I felt during my trial, sports were my escape. I needed to be with my crew."
Andrews continued to work for the two weeks after her surgery, and returned to L.A. on November 1 for another procedure. By November 17, she was told that she wouldn't need radiation or chemotherapy.