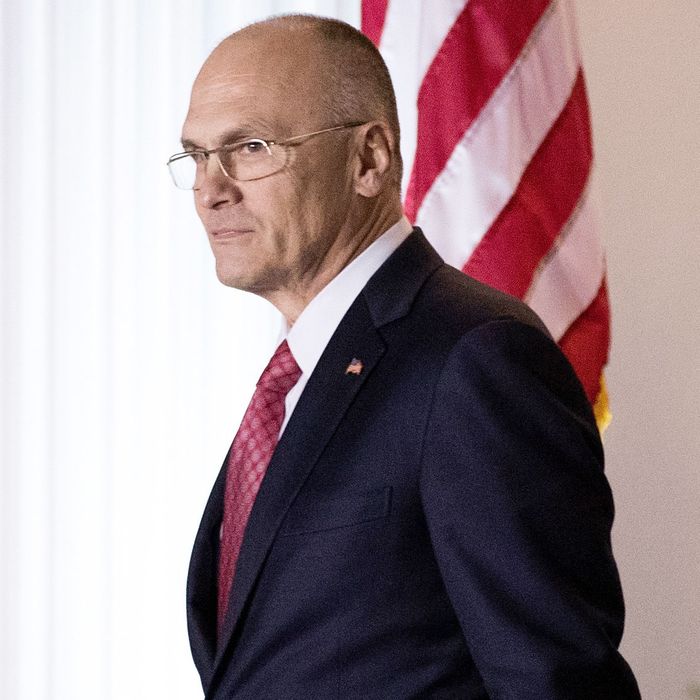 Andrew Puzder was accused of domestic violence in the 1990s.
Photo: Drew Angerer/Getty Images
During their divorce proceedings 1989, Andrew Puzder, the fast-food executive and Donald Trump's pick for secretary of Labor, was accused by his then-wife of domestic abuse. In court documents, Lisa Henning (who is now Lisa Fierstein) alleged Puzder abused her on at least three separate occasions, once punching her in a car, once throwing plates at her, and once throwing her to the floor when she tried to call 911.
Puzder has denied these claims, and in a statement to the Cut, Fierstein said she "impulsively filed for divorce and was counseled to file allegations that I regretted and subsequently withdrew over 30 years ago." But according to Politico, Fierstein appeared anonymously on an episode of The Oprah Winfrey Show as a victim of domestic violence.
Two friends and a spokesperson for Puzder and Fierstein confirmed her appearance on the show, disguised by a wig and glasses and under the name Ann. She didn't mention Puzder by name but reportedly repeated her allegations against him on air. Politico was unable to obtain a tape of the episode.
A spokesperson for the Trump transition team called the focus on Fierstein's allegations "part of a desperate smear campaign" against Trump and his nominees. Puzder's Senate confirmation hearing was originally scheduled for January 17, but due to his many conflicts of interest as an international businessman (and likely due to the assumption he'll face steep opposition from Democrats), it was pushed back to February.
At the hearing, it's likely Puzder will have to answer for his views on women, whether they're starring in sexist ads for restaurants his company owns, being harassed in his kitchens, or leveling charges of abuse against him 30 years ago. Terry O'Neill, president of the National Organization for Women, told Politico, "I can't imagine a single organization that cares about women that would not vigorously oppose him."