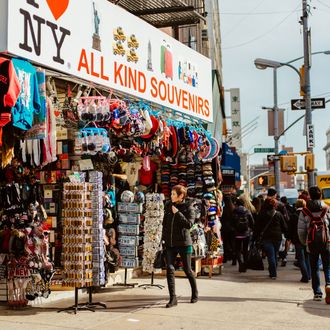 Canal Street in New York's Chinatown.
Photo: Ferran Traite/Getty Images
This September, Alexander Wang could have had a celebrity-packed store party or high-profile Instagram seeding to promote his Adidas collaboration. Instead, he chose to sell it in garbage bags from the back of an unmarked van on Canal Street. Earlier this year, Alessandro Michele designed a T-shirt for Gucci's cruise 2016 line that pointedly referenced the counterfeit versions sold at the stores up and down the bustling avenue. And his recent collaboration with Brooklyn artist GucciGhost included bags with dripping letters spelling out "REAL" spray-painted teasingly above the house logo. Fashion is having a moment with Chinatown's bustling boulevard, and not just aesthetically.
While high fashion once combated, scorned, or, at best, ignored the kind of knockoff culture that Canal Street is known for, it's now embracing it. Dapper Dan, the Harlem impresario who became notorious in the '80s for his extravagant plays on luxury logos, once told the Cut that "I was locked out … [the fashion Establishment] didn't want to have that kind of relationship with me." Three decades later, designers are snapping up his artistic heirs for collaborations and special projects and flirting with the transgressive factor of knockoff merch.
You have Vetements designer Demna Gvasalia concocting slogans for his T-shirts and sweatshirts that seem like things you could find at a touristy T-shirt stand, with messages like "Justin 4 Ever" and "May the Bridges I Burn Light the Way." Aside from their astronomical prices and infinitely higher quality, there's not a huge difference — and that's kind of the point. When luxury feels increasingly boring and bland, legacy houses are eager to find any way to make spending a lot of money feel like rebellion.

But fashion's incursion into the area isn't just an artistic one. Industry people have begun to turn one of the blocks into a mini–Garment District. Two facing buildings, on 264 and 265 Canal, have become a hotbed for the city's indie talents to set up shop — the brands Area and CG; stylists Mel Ottenberg, Chris Gelinas, George Cortina, and Katie Mossman; and magazines Document Journal and Office, to name a few. Attracted by the cheaper rent, Gelinas relocated his studio this summer from the slice of midtown that makes up the city's shrinking (but eternally relevant) Garment Center. He says he appreciates the extra space and the remove from the fashion Establishment. "The day that Canal Street would ever seem like a reprieve from the chaos is crazy to me, but it totally is," he says.
The fashion crowd there has developed a kind of proximity-based camaraderie. Ottenberg can see into Area's studio from across the street and jokes that he checks in on what they have coming down the pike. Recently, he put some of their pieces on his client Rihanna for her Fenty campaign. "We're on the same wavelength," says Area co-designer Piotrek Panszczyk. And Office recently published a Q&A with Ottenberg. "I didn't know him officially" until he moved into the building, explains co-editor Simon Rasmussen. "We've since peed together in the bathroom. Became friends," he says jokingly.

For decades, the neighborhood has managed to stay less expensive and multinational-chain-choked than the rest of downtown Manhattan. Ottenberg says that "this area is what Chrystie Street was ten years ago," while Document Journal editor-in-chief Nick Vogelson likes that "it feels like what I imagine Soho would have felt like in the '70s. It doesn't feel necessarily like you're in New York in 2016." But that could change as outsiders, including those in fashion, continue to replace legacy businesses in the neighborhood. (This has already become evident in other industries: The migration of art galleries from Chelsea, for example, has displaced or threatened many long-standing residents.) And the fashion transplants are keenly aware that their embrace of the area's anti-corporate vibe could eventually lead to its extinction. Says Office co-editor Jesper Lund, "I think it's a question of time before Balenciaga or something opens up on the other side of Canal."
Wellington Chen, the executive director of the Chinatown Business Improvement District and the Chinatown Partnership, notes that the area served as a garment district of its own before lower midtown ended up becoming the de facto center of the city's fashion business. In the '80s, there were an estimated 20,000 garment workers in the neighborhood. So he is cautiously optimistic about the designers who are moving in, given the area's graying population and commercial vacancy rates. "For every 300 square feet [of office space], you create a new job," he says. "They will buy a cup of coffee, breakfast, [get] lunch around the block … They're helping to fill up the vacant spaces that are not being filled." Chen says he hopes the newcomers can help establish a beachhead for the return of the fashion industry to the area, adding that he'd like to see noted Chinese-American designers set up shop there. "The talent in the city, Asian or non-Asian, should come down here and create new brands," he says. "If you want to make in America, we've got seamstresses here who used to make thousands of garments."