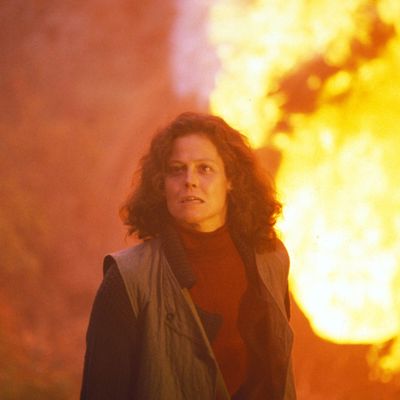 OUT: cropped jeans. IN: survival at all costs.
Photo: Universal Pictures
The end of the world could come in any number of ways: nuclear war, email scandals, crowd-size disputes, the wall, the lying media, the Earth deciding that it was too good for our bullshit and walking out the door, don't you dare follow me, I swear to God. But it's definitely coming, and there is only so much time to get your closet in order before it — whatever "it" is — arrives. Do you really want to be the only person in the bunker wearing Stan Smiths from 2015 and a deconstructed, off-the-shoulder white button-down? No, Karen. This is the literal end of the world we're talking about, not Bethany's gallery opening for those pencil drawings she does of thin women riding bikes.
Want to be prepared, comfortable, and also cool for the certainly coming end of all things good and normal? Stock up on these in-demand — but sensible — wardrobe staples before it's too late.
CIGARETTES
Everyone knows that the end of the world will be stressful, and attempting to resist the dying of the light will not be easy to do while drinking green juice and navigating that mindfulness app you downloaded six months ago and never once opened. The answer is cigarettes. Yeah, you quit smoking in 2008. Yeah, they make your teeth yellow. But the world is ending — and you need a cool accessory to prove that you are aloof and that you are well past worrying about lung cancer!!! That is quite literally the least of your worries. And another thing: packs of cigarettes are good for bartering.
A TARP (EASILY FASHIONED INTO A PONCHO)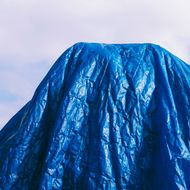 Tarps come in one beautiful statement color: aggressive blue. And they can be worn two ways: loosely draped over groups of no more than six people, or as a ready-to-wear poncho with holes cut out for a head and two arms. Some tarps are equipped with metal-reinforced loops for camping bungee cords, which is a convenient and easy way of dressing up a classic piece. Did you happen to find bungee cords in safety-cone orange? That's the color we're going to be seeing everywhere when the world ends, so don't be shy about layering up.
SEVERAL BELTS
In the fashion world, belts are seen as a casual accessory whose primary function — to keep pants at waist-level — is inconsequential. But in the apocalypse, the humble belt will take you far, and you will need at least six, perhaps eight of them, for carrying tools, zip-lining to safety, cauterizing wounds, etc. In happier days, we might have styled a belt above the waist to cinch a summery crepe dress (paired with a muted suede mule). Those days are over now. At your local Army-Navy surplus store, purchase six sturdy, no-nonsense leather belts and one weightlifting belt for good measure. Wear them stacked decisively from below the breast line to the hips.
FINGERLESS GLOVES OVER AN ACE BANDAGE
This season, the focus is going to be on your hands. Why? Because you have a giant gash on one and a flesh-eating bacteria on the other. Cover them up with two contrasting textures that will both stop the bleeding and draw onlookers' attention to this season's favorite body part: shabby wool and elastic bandage. Can't find gloves with the fingers cut off? That's okay. Three days of surviving in the woods will wear down the wool to your fingertips naturally. But don't forget to get a manicure!
GOGGLES
Sand! Dust! Liquids of unknown nature! Should you want to keep your eyeballs healthy and thriving in the apocalypse, you will, of course, need goggles. Remember that year you confused Coachella for Burning Man and had to borrow Cara Delevingne's goggles to protect your eyes as you high-tailed it by scooter back to the closest metropolitan area? Dig those out of storage. You might not be able to see much, but if there were any surviving mirrors I guarantee you'd be pleased with your reflection.
LASIK
Contact lenses are not going to survive the end of the world. And you sure as hell know that glasses — no matter how much they have become part of your statement look, Jenna Lyons — are gonna break after only one day of rooting around in destruction. The only way to prepare yourself for disaster is to correct your vision with a laser. It's like a facial — but worse. :)
PAUL GIAMATTI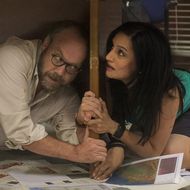 They say the best accessory is confidence, but in the apocalypse, anyone who knows anything will be styling their hazmat suits and camouflage trenches with Academy Award–nominated actor Paul Giamatti. Whether the "seismic graph" goes "off the rails" or the "cybersystem" gets hacked and the "codes" have been "corrupted," you do not want to be seen without a sweaty Giamatti furiously spewing junk science at your side. Bonus points if you pair become the last remaining hope for the human race. A classic love story.
HIGHLIGHTER
If every woman remembered to bring her highlighter compact to the end of the world, we could arrange them all into giant letters that spell out "S.O.S." With the glow of that much highlighter beaming into outer space, alien lifeforms would surely see us struggling and swing past Earth to save us.