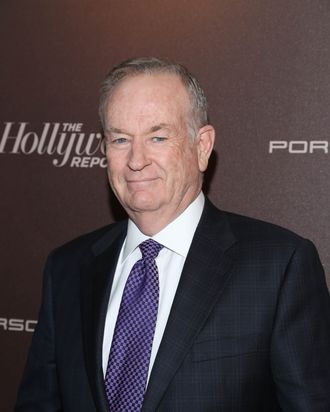 A Fox employee claims O'Reilly sexually harassed her on multiple occasions.
Photo: Rob Kim/Getty Images
At the same time former Fox News chairman and CEO Roger Ailes was accused of sexual harassment by multiple Fox employees, the network was also fielding claims against one of its star anchors: Bill O'Reilly. A letter obtained both by the website LawNewz.com and the New York Times details allegations by Juliet Huddy, a Fox employee, that O'Reilly sexually harassed her on multiple occasions and retaliated against her professionally when she rejected his advances.
Huddy and her legal counsel reportedly sent the letter — which also lists allegations against Jack Abernethy, the newly appointed co-president of Fox — to network officials in August. They reached a settlement with Fox on September 5. Although no settlement amount is listed, LawNewz.com reports that the amount paid to Huddy was "in the high six figures" and that neither O'Reilly nor Abernethy personally paid any money.
Huddy joined Fox, where her brother and father also work, in 1998 as a reporter based in Miami. By 2010 she had a regular segment on The O'Reilly Factor, and later hosted a second segment, which meant she and O'Reilly were regularly together on set. According to the letter, O'Reilly invited her to lunch in January 2011, then drove her to his nearby home where he showed her every room. "To [her] shock and disgust, as Ms. Huddy was saying goodbye to Mr. O'Reilly, he quickly moved in and kissed her on the lips," the letter reads. "Ms. Huddy was so taken aback and repulsed that she instinctively recoiled and actually fell to the ground. Mr. O'Reilly, looking amused, did not even help Ms. Huddy up."
After that incident, O'Reilly invited Huddy to have dinner and attend a Broadway show with him. Huddy "felt compelled to comply with Mr. O'Reilly's request, given that he had total control over her work assignment." From the Times:
During the Broadway show, according to the letter, Mr. O'Reilly moved close to Ms. Huddy in a way that made her feel uncomfortable. He tried to hold her hand but she pulled it away. Then he dropped a key to the room at a Midtown Manhattan hotel he was staying at into her lap, and told her to meet him there after the show. He stood up and left, the letter said.

Ms. Huddy went to the hotel to return Mr. O'Reilly's key, according to the letter. She asked him to meet her in the lobby, but he refused and asked her to join him in his room. … When Mr. O'Reilly opened the door to his room, he was wearing nothing but boxer shorts, according to the letter. Ms. Huddy was "very embarrassed, handed Mr. O'Reilly his key and quickly left," the letter said.

Although Huddy made it clear she was "not interested in Mr. O'Reilly on a personal or sexual level," he continued to call her "at all hours" and make "highly inappropriate and sexual" remarks to her on the phone. On some occasions, it sounded as though he was masturbating, the letter said.
After being rejected repeatedly, O'Reilly reportedly began to retaliate against Huddy in a professional capacity. According to the letter, he "berate[d] her for minor mistakes" and stopped preparing her for segments. She was eventually replaced on one of her O'Reilly Factor segments, and the other was canceled.
As part of her settlement with 21st Century Fox, Huddy agreed not to "disparage, malign or defame" either O'Reilly or Abernethy, both of whom vehemently deny her claims. If she does, she could be liable for $500,000.