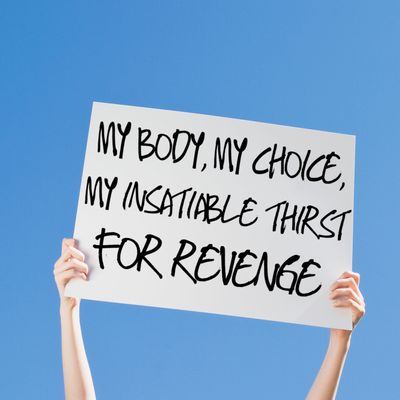 Photo-Illustration: Chris Hackett/Getty Images/Tetra images RF
If you're heading to Washington, D.C., for the Women's March on January 21, you're likely finalizing all your preparations — you know how you're getting there and you have a list of what to bring, but now, of course, you need to think of a slogan for your sign.
The protests following Trump's election saw a few original, funny ideas emerge — take "Not Usually a Sign Guy But Geez" — but there are plenty of quips to be pulled from your endless pool of despondency and rage.
Here are a few ideas from the Cut to get you started:
● I'd Rather Be Screaming Into the Void
● Listen to Leo: Climate Change Is Real
● MY BODY, MY CHOICE, MY INSATIABLE THIRST FOR REVENGE
● I Want Substantive Change But Will Settle for You Not Killing Us
● Rude of You to Have Made Me Come Out Here on the Weekend
● Tiffany, Blink Twice If You Need Help
● Can U Not?
● Snowflakes Are Actually Very Beautiful and Complex
● Why Are You So Obsessed With My Uterus?
● None of Us Were Rooting for You

● Mike Pence Has Never Satisfied a Woman in His Life
● If You Won't Release Your Tax Returns, Release the Piss Play Video
● I Could Be Sleeping But You've Forced Me to Protest
● I'm Too Worried to Be Funny
● Ugh