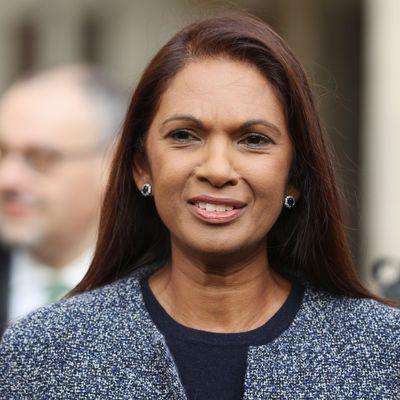 Founding partner of SCM Private LLP Gina Miller is seen after the High Court decides that the Prime Minister cannot trigger Brexit without the approval of the MP's.
Photo: Dan Kitwood/Getty Images
On Tuesday, the U.K. Supreme Court ruled that Britain can't begin the process of leaving the European Union without parliament's approval. The ruling, which upheld an earlier decision by a lower court, is the result of a case brought by U.K. businesswoman Gina Miller, whom British newspapers have dubbed "Brexit-wrecker," and who's dealt with months of online threats and abuse for what she describes as "simply bringing and asking a legitimate question." Here's what you need to know about Miller's history and motivations.
Who is she?
Gina Miller was born in Guyana, but her parents sent her and her brother to the U.K. to attend school. According to the BBC, she attended Roedean School when she was 10 and later moved to Moira House Girls' School in East Sussex. Her parents were barred from sending money to the U.K., so she worked as a hotel chambermaid and in restaurants to earn extra cash while her brother delivered newspapers. "We were aware that it would be illegal to live unsupervised until my brother turned 16, so I did everything to look older," she told Vogue. "I would leave for school in the morning wearing grown-up clothes and high heels, and then change into my school uniform in a petrol station on the way."
Miller later went to university in London where she studied law. She married hedge-fund manager Alan Miller (who was dubbed "Mr. Hedge Fund" by the British press) in 2005, and in 2009 she co-founded an investment firm and launched the True and Fair Foundation, which supports smaller charities. She told the Financial Times that after she launched a campaign to promote transparency in London's fund-management industry, financiers gave her the nickname "black widow spider" — and no, it wasn't a compliment. "I've been quite used to being the most hated woman in the investment and charity sectors," she wrote in Vogue. "Now I've been called the most hated woman in the country."
Why is everyone talking about her?
Along with Brazilian-born hairstylist Deir Dos Santos (who is a British citizen) and the People's Challenge group, Miller brought a lawsuit against the British government arguing that it couldn't invoke Article 50 of the Lisbon Treaty — "Any member state may decide to withdraw from the Union in accordance with its own constitutional requirements" — without approval from parliament. (Prime Minister Theresa May had said she wanted to begin exit negotiations by the end of March and reportedly planned to bypass parliament altogether.) Three judges ruled in Miller's favor in November, but the government appealed the decision, so the case went to the U.K.'s Supreme Court. On Tuesday, the court again ruled 8-3 in Miller's favor on the basis that Brexit will change a number of citizens' rights, therefore citizens — by way of their elected officials — should have a say in the process.
So why did she file the lawsuit?
According to Miller, it was a matter of principle. "Even a first-year law student learns that an overriding principle is that parliament is sovereign," she wrote in an op-ed for the Guardian. Therefore May's decision to bypass parliament "made it immediately obvious to me that this would deny the sovereignty of parliament." She went on, "It is one of the most beautiful things about our country that just one individual, so long as he or she has the law on their side, can take on the most powerful institutions or people in the land and win."
After the first court ruling, Miller received numerous death and rape threats, as well as sexist and racist comments on Twitter. "[People tell me] I'm not even human, I'm a primate, I belong in a kitchen — that's the nicest of some of them," she told BBC Radio 5. Police told CNN at the time that they were aware of the situation, and in December a 55-year-old man was arrested for making threats against Miller; he was later released on bail. Miller blamed politicians and the media for politicizing the case, saying "they are the ones inciting racism and violence and acrimony."
Miller has faced accusations that she's anti-Brexit, and that her goal in suing the government is to subvert the "will of the people." True, she told BBC she'd campaigned for "remain, reform, and review" during the referendum, but she clarified, "We're all leavers now." "This is about creating legal certainty," she said. "Everyone in the country should be my biggest fan because I've used my own money … to create legal certainty for Mrs. May to move ahead." Indeed, her case won't stop the Brexit process, but it will make sure it occurs on her terms.
What happens now?
Again, it's pretty unlikely Miller's case will stop the Brexit process, but it might complicate things a little. Labour party leader Jeremy Corbyn said he won't stand in the way: "Labour respects the result of the referendum and the will of the British people and will not frustrate the process for invoking Article 50," he told BBC. But he added his party will seek to amend the bill "to prevent the Conservatives using Brexit to turn Britain into a bargain-basement tax haven off the coast of Europe." Representatives for May, meanwhile, said the ruling wouldn't delay the Brexit timetable. According to the New York Times, her government has previously argued that leadership doesn't need parliamentary approval to break or leave international treaties.