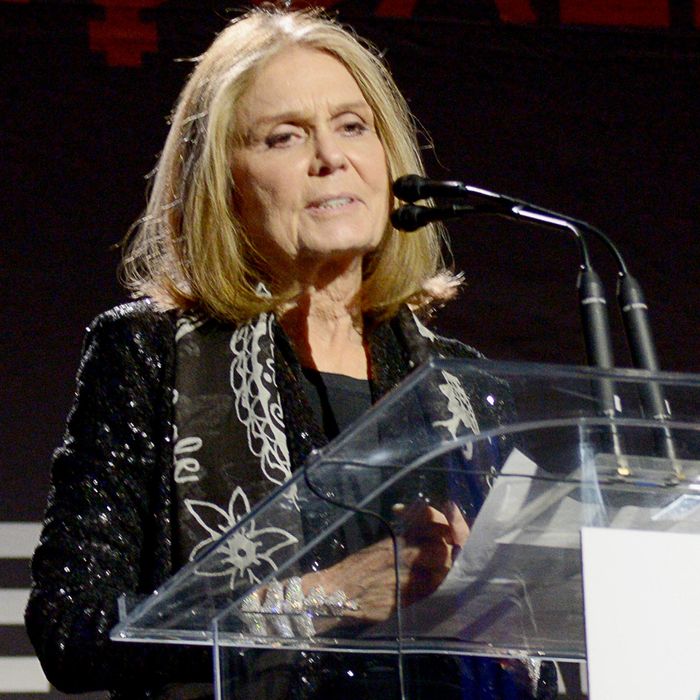 Gloria Steinem.
Photo: Matt Winkelmeyer/Getty Images for Equality Now
In August, New York City public advocate Letitia James introduced legislation that proposed banning employers throughout the city from asking prospective applicants about their salary histories. The logic goes, when applicants are required to share their salary histories on job interviews, women are more likely to be hired at a lower pay rate than men, because so many women are paid unfairly from the very beginning of their careers.
In response to James's legislation, Mayor Bill de Blasio signed an executive order in November that banned municipal agencies from asking for applicants' salary histories. The natural next move would be to ban private-sector employers from asking about salary histories, too. De Blasio was hopeful in November that this would come soon, saying, "Obviously we are very receptive to the City Council passing broader legislation. Do we have a schedule for when perfect equity will be reached? No, but we believe that this could move very quickly."
Now, in a potential incentive to push the larger legislation forward, popular feminist activist Gloria Steinem has joined the campaign for banning salary histories alongside Public Advocate Letitia James. Steinem endorsed James for public advocate in 2013, and will now become a formal surrogate for the cause. "As an icon of the feminist movement, Gloria Steinem knows just how hard women fought for equal rights," James said in a statement to the Cut. "Nowhere is this fight more apparent than in our quest for equal pay for equal work."
"Gender wage discrimination is destructive not only to female workers, but to our entire economy," James continued. "Closing the wage gap starts with barring employers from asking questions about salary history so any previous salary discriminating is not perpetuated. With Gloria's support, we will ban salary history in hiring and take an important step toward equal pay for equal work." Currently, the bill has the support of 32 co-sponsors, including every female member on the City Council.
Should the bill be passed, it would mean protecting 3.8 million New Yorkers from having to reveal their salary histories, which would be a significant move in the direction of pay equity in New York City. (The current law protects 360,000 city workers, and any prospective applicants to municipal jobs.) Steinem, who has advocated for equal pay before, told the Cut, "Work should be paid according to its worth, not to any past bias against the worker. By making it illegal for an employer to ask an applicant's past salary before offering a job, Public Advocate Letitia James is uprooting a cause of discrimination in New York where women earn $5.8 billion less each year than men do. We owe her our gratitude for helping us to live and work together fairly in this city we love."