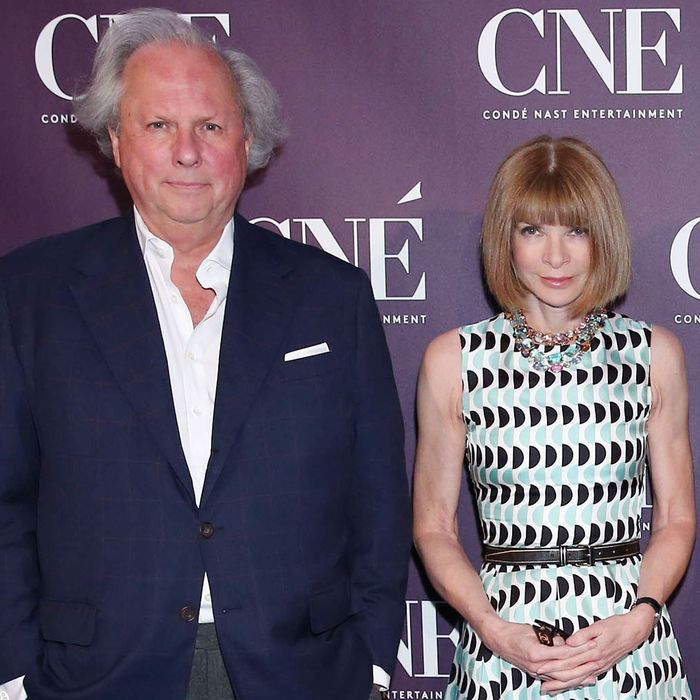 Graydon Carter and Anna Wintour.
Photo: Neilson Barnard/Getty Images
At 10 a.m. on Friday morning, president-elect Donald Trump is slated to meet with top editors from Condé Nast at the media company's headquarters; Anna Wintour will be there, as will Vanity Fair editor-in-chief Graydon Carter. Carter, of course, famously earned Trump's ire when he referred to him as a "short-fingered vulgarian" in Spy magazine back in 1988, and the two have been feuding ever since.
Aware of the bad blood between them, Carter told Politico that he tried to get out of the meeting. "It wouldn't be my first choice to spend a Friday morning in a group like that," he said. "I try to be a decent host. I went to Anna Wintour and I said, 'Listen, I don't want to make him feel uncomfortable.'"
But, alas, he's still stuck in the meeting. "I don't know what there is to learn from this. Obviously there's a novelty aspect to the whole thing," Carter added. "I don't think he's gonna say anything new here that he hasn't said before. If I was advising him, I'd say to ignore me completely."

Ah yes, completely ignoring even the most minor of criticisms: one of Trump's proven strong suits.